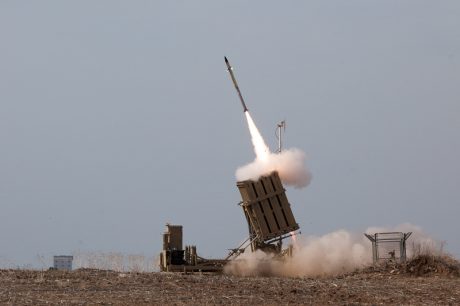 The International Business Times website has run an article that states that Israel has test fired an updated and upgraded interceptor missile called "Magic Wand also known as David's Sling."
The interceptor is a joint program between Israel's Rafael Advanced Defence Systems and US Raytheon thought to enter service in 2014. Testing of the missile system was originally planned for 2013 but due to recent events in that area (Israel) the testing program was brought forward in the hope of improving on Israels claimed 90% success rate for Iron Dome.
Iron Dome battery at work. Image credit: IDF
Israeli Defence Minister Ehud Barak said about the system: "The great success of the Iron Dome batteries during Operation Pillars of Defense proves beyond a shadow of a doubt the tremendous importance of anti-missile systems. Israel is a world leader in this department thanks to Israeli Defence industries and its developers."
"The completion of the program will be a significant layer for Israel's mulch-tiered anti-missile defence system," he added.
Magic Wand (David's Sling) will have an effective range of around 70 km and will be effective against both short range and ballistic targets. It will fill the gap between the short-range Iron Dome and the long-range Arrow 2 ballistic missile defense program.
The Jerusalem Post (JP) adds a little more flesh to the bones by saying that Magic Wand will be effective against Iranian missiles such as M600, the Zelzal, Fajr and Fetah 110 all thought to be in the hands of Hezbollah.
JP also went on to say that David's Sling (Magic Wand) has a launcher which holds 16 rounds of the 'Stunner interceptor' and works in conjunction with a phased-array radar again Israeli made.
Richard Clements for TheAviationist.com
Related articles