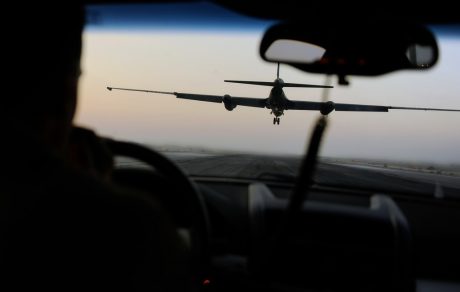 An article written by W.J. Hennigan for the LA Times, provides some new interesting details about the U.S. Air Force's fleet of cars used to chase U-2 (and, presumably, RQ-4 Global Hawks) spyplanes.
Chase automobiles are used to supervise take offs, landings (and touch and gos) wherever U-2 Dragon Lady pilots (from Beale Air Force Base, California, home of the 9th Reconnaissance Wing) bring their planes.
Such sport cars are driven by highly trained pilot who act as ground-based wingmen for pilots flying aircraft whose size is such that the pilot's view is obstructed by the airframe or part of it, and there's a significant risk of hitting any ground obstacle with a wingtip.
Both manned and unmanned planes rely on chase cars, 20 of those are located across the globe.
Image credit: U.S. Air Force
Pontiac G-8 GTs are currently being replaced by new 400 HP V-8 Chevrolet Camaro SS. They are modified to arrange radios used to communicate with planes and they are always ran quite fast along taxiways and runways.
That's why, among the things you are required to do to become a U-2 pilot, there's also a course to maintain high-performance cars at top speeds!
Since the '50s, the Air Force has not only rebuilt and upgraded the 33 U-2 in inventory, but has also procured more capable cars. According to the LA Times "in the 1950s and '60s, U-2s were slow, so the Air Force could use old work trucks. But the military used El Caminos in the 1970s and 1980s. Starting in the 1990s, GTOs, G8s and Camaros took over as chase cars."
Related articles