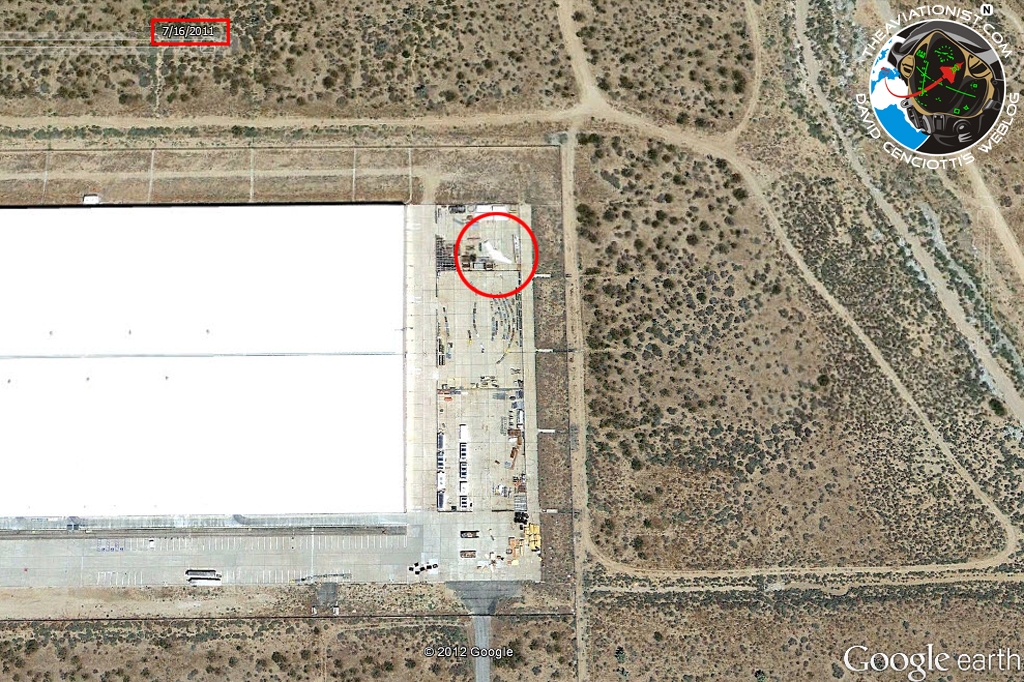 Do you remember the mysterious UAV quitely sitting open-air at Lockheed Martin's Advanced Development Program Facility at Palmdale airport, California?
Unveiled by satellite imagery dated Dec. 4, 2011, the "new" drone has a signature that reminds the one of the RQ-170 Sentinel, the stealthy drone captured in Iran (crash landed there, on the same day the satellite picture was taken).
However, Gleen Haas, a reader of The Aviationist found on Google Earth that actually there is an earlier photo of the "stealth drone" shape in the same position, and location of that tarmac.
The earlier photo (that Gleen found in Google Earth's Historical photo's link) identifies the same shape in the same location and position (5 months earlier, and it hasn't moved) dated Jul. 15, 2011.
To see the same photo, look in Google Earth at the bottom of the screen, and the date 1994 in a square.  Click on that, and it will give you a timeline in your view at the top, that allows you to scroll back in time at previous photos of that same location.
Hence the mysterious 'bot, can be spotted on the same place at least five months earlier than initially believed.
But, by going back in time using the same method described above, I've discovered another interesting image dating back to Jun. 6, 2009. Although a bit grainy and less defined than the most recent imagery, the satellite image seems to show the same seemingly packaged drone on a different position but on the same apron.
Therefore, the unknown drone has been exposed to satellites since 2009, meaning that it can't be a secret project nor a recent update to the RQ-170 Sentinel.
Most probably it is just a mock-up used to evaluate the stealthiness of the RQ-170 and abandoned once all test had been completed.
In 2009 the Sentinel had already been spotted and the images of the drone on the ground at Kandahar had already been published by several magazines and websites.
This could be the reason why the once-secret robot was open-air for anyone to see.
Above images: screen dumps from Google Earth.
Eventually the answer to the question "Did Google Earth spot a top-Secret or damaged drone at Lockheed Martin's Skunk Works?" is: No, it didn't.
Related Articles