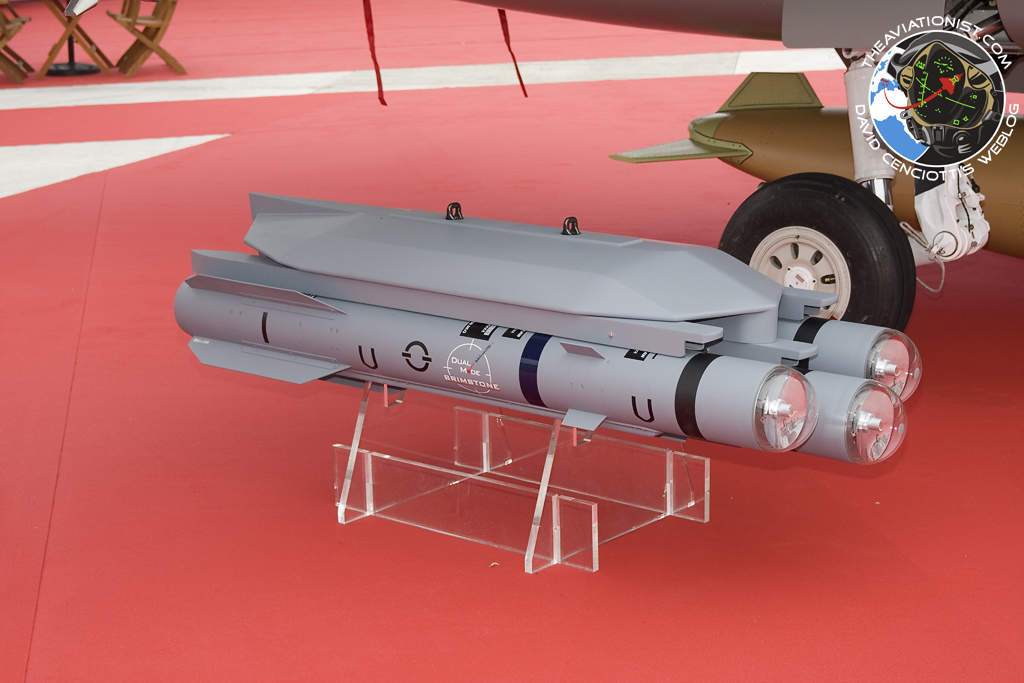 The Alenia Aermacchi M-346 advanced combat trainer will be capable to fire Brimstone anti-armour missiles: among the weapons surrounding the plane on static display in the Finmeccanica park at Farnborough Air Show 2012, there are also some Brimstones fire and forget anti-armour missiles, weapons that had a starring role in the Air War over Libya.
Optimized for release from fast moving platforms, these small guided missiles (which are an extensive redevelopment of the AGM-114 Hellfire) have a range of 7.5 miles. They use a millimeter wave (mmW) radar seeker with a semi-active laser (SAL) that enables final guidance to the target by either the launching platform or another plane, and are perfect for small targets, individuals, buildings and fast-moving vehicles.
With a warhead of 9 kg, capable of destroying a vehicle with very low collateral damage risk, and an accuracy of about 1 – 2 meters, the dual-mode (radar – laser) Brimstone missile proved to be the weapons of choice of the RAF Tornados when engaging ground vehicles.
Therefore, after being involved in the first weapon delivery tests and flying with air-to-air missile on the wing tip pylon the M-346 could soon be involved in testing activities at Decimomannu airbase with the MBDA Brimstones.
Related Articles