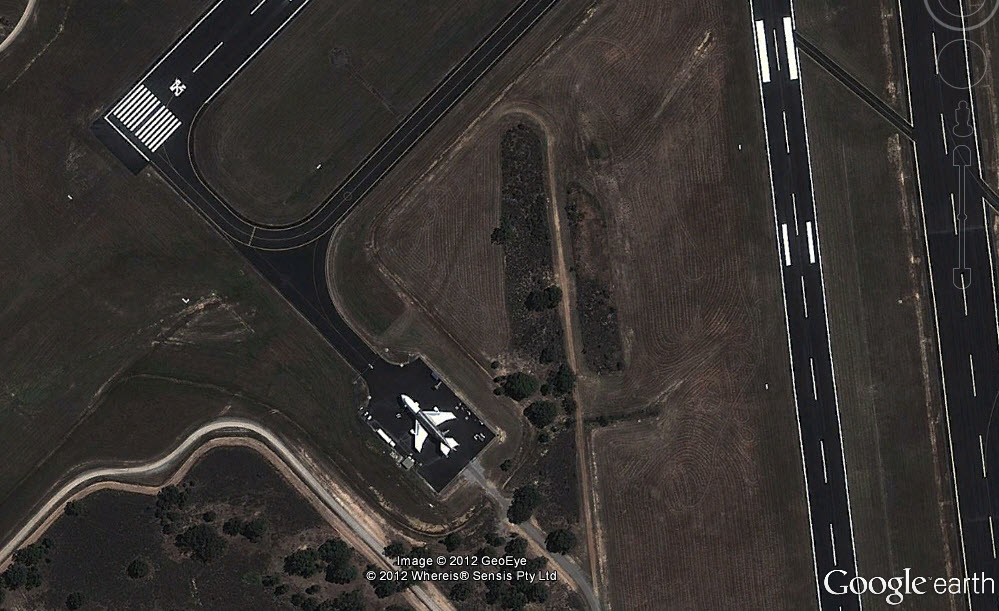 The ambitious al-Qaida's affiliate in Yemen's "underwear bomb plot" to destroy a U.S.-bound airliner recently thwarted by CIA, has proved, once again, that civilian planes are still an attractive target for terrorists.
For this reason, armed forces all around the world train to face the terrorist threat, not only in the air, but also on the ground. Indeed, the ability to disable hijackers on a plane filled with passengers and rescue hostages when the aircraft has landed on a divert field, is one of the activities that Special Forces train more often.
At RAAF (Royal Australian Air Base) base Pearce, 35 kilometers to the north of Perth, in Western Australia, the Special Air Service Regiment (SASR), the Australian Special Forces, can put their counter-terrorism procedures to the test using a Boeing 747 mock-up.
The Jumbo (belonging to the fictional Emu Airlines) can be spotted from the satellite on a dedicated parking spot next to the runway 05 threshold, at the following coordinates: -31° 40′ 27.29″, +116° 0′ 40.07″.
Google Earth screen dump
With a contract awarded in 2010  the mock-up plane was updated with an "Extended Upper Deck" most probably required to give the 1:1 model an internal configuration similar to the interiors of the Airbus 380.
Airbus's double deck wide-body was introduced into service by Australia's flag carrier Qantas in October 2008 (with some early engine problems…), and is being progressively replacing the Boeing 747-400 across the airlines's international network.
Image credit: Internet / via Giuliano Ranieri
The Australian units tasked with the rescue of hostages in the counter-terrorism role are the Tactical Assault Group (West), with personnel provided by the SASR, and the Tactical Assault Group (East) provided by the 2nd Commando Regiment.
In the image below, two Black Hawk helicopters during an exercise with the aircraft mock-up.
Image credit: Internet/ via Giuliano Ranieri