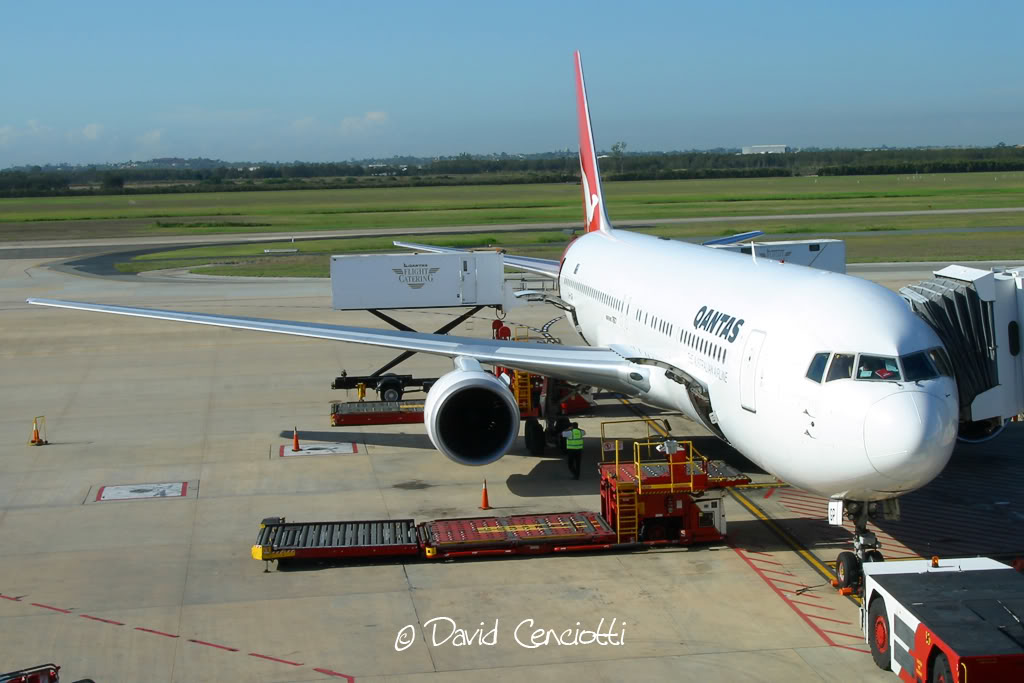 I was trying to find out some new information dealing with the QF2 emergency discussed in my last post when I found this article on the Sydney Morning Herald website:
Qantas defends safety record as it probes jet's power loss

January 11, 2008 – 4:53PM

Qantas defended its safety record today as the airline investigated a dramatic loss of power in a jumbo on landing approach to Bangkok.

The B747-400 aircraft, en route from London on Monday with more than 300 people on board, landed safely after automatically reverting to standby battery power.

The power loss occurred after a cracked drip tray above electrical equipment let water enter an electrical bay where it caused several components to malfunction, Qantas says.

Qantas Executive General Manager John Borghetti has dismissed as "unhelpful" speculation by engineers, pilots, commentators and airline union officials about whether the power loss could have been disastrous if it happened further out over sea.

"Regardless of some of the more colourful claims being made about Qantas engineering standards, the truth is that Qantas has one of the world's leading engineering operations," Mr Borghetti said in a statement.

"As always, safety is our prime concern.

"We stand by our 87-year reputation for operational excellence and will never compromise our high standards."

The airline was investigating the "highly unusual incident" with manufacturer Boeing and the Australian Transport Safety Bureau, he said.

Boeing also issued a statement slamming the widespread speculation.

"Boeing and Qantas enjoy a long, successful history of 747 operation to the very highest standards the public expects of us, and the safety of those who fly on our airplanes is paramount," it said.

Qantas says it has checked the systems and equipment on all 30 of its B747-400 aircraft and the entire fleet had been cleared to fly.

The airline's engineers had planned industrial action over an unrelated pay dispute today but this was yesterday delayed until February.

The Australian Licensed Aircraft Engineers' Association is seeking a five per cent pay rise for up to 1,700 engineers nationwide, but the airline has offered only a three per cent increase.

AAP

This story was found at: http://www.smh.com.au/articles/2008/01/11/1199988578012.html
This article made me think about the famous Qantas safety record. The first time I thought about the record was when, in the famous movie "Rain Man", Dustin Hoffman, Raymond Babbitt, aka Rain Main, makes the famous statement "Qantas never crashed":
This is the interesting quote (approx. min 02:26 to 02:53 of the above video)
Charlie: All airlines have crashed at one time or another. That doesn't mean that they are not safe.
Raymond: Qantas. Qantas never crashed.
Charlie: Qantas?
Raymond: Never crashed.
Charlie: Oh that's gonna do me a lot of good because QANTAS doesn't fly to Los Angeles out of Cincinnati, you have to get to Melbourne! Melbourne, Australia in order to get the plane that flies to Los Angeles! Do you hear me?
Raymond: Canberra's the capital, 16.2 million population.
Charlie: Let's go.
Actually, that is a claim that refers to jet aircraft. During its history, Qantas had 10 fatal accidents, the last of which occurred in 1951, none of which interested jets (for details have  a look at the following page: http://en.wikipedia.org/wiki/Qantas_fatal_accidents
Anyway, that is an outstanding result (and a powerfull marketing tool) that has some explainations:
1) Qantas is a healthy company, safety is paramount
2) Despite having a large fleet (184 as of Jan. 1st 2008), it is small if compared to that of some US carriers and some major European ones. United, Delta, American, British have larger fleets. According to the Qantas site the company operates:
6 x Boeing 747-400ER
24 x Boeing 747-400
4 x Boeing 747-300
29 x Boeing 767-300ER
33 x Boeing 737-800
21 x Boeing 737-400
5 x Boeing 737-300
14 x Boeing 717-200
10 x Airbus A330-300
30 x Bombardier Dash 8 (100/200/Q300)
7 x Bombardier Dash 8 (Q400)
1 x Airbus A330-200
3) Until some 15 years ago, the company flew only long range international routes. Since take-off and landing are the most dangerous phases of the flight, long haul routes are safer under a statistical point of view.
4) Australia is quite a wide country. Even national routes are longer than US domestic ones.
5) Flying to Europe and US, Qantas aircraft may encounter bad weather conditions at departure and arrival but Australian weather is mostly mild and can't be compared to that of North America and Europe. Bad weather implies more risks.
6) Qantas flights fly along less crowded routes. Even if the Melbourne – Sydney corridor is among the most crowded ones, Australian skies are relatively empty if compared to the congested European ones. Crowded airspace implies more risks. Furthermore, destinations reached by Qantas are mainly large and safe airports, mostly located in the US, Asia and major European airports. Some other big companies reach many other "uncomfortable" airports.
7) Since commercial aviation safety improves with the introduction of more modern, more reliable and better equipped aircraft, the safety record has more possibilities of resisting.