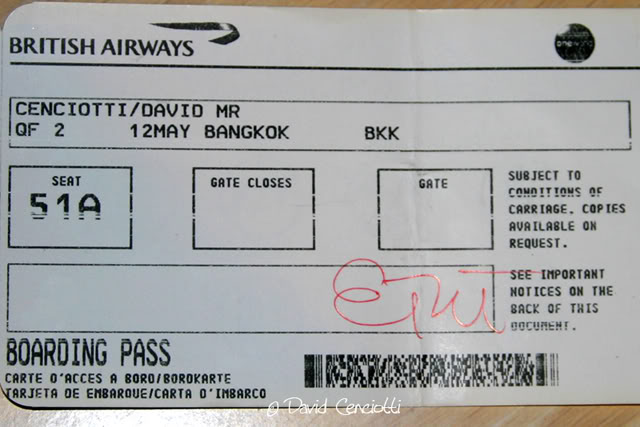 Yesterday, I was reading one of my favourite aviation newsgroup. One of the posts pointed to the following article, published on the Sydney Morning Herald:
Qantas jet failure outrage
Edmund Tadros
January 9, 2008 – 1:53PM

Passengers were told there was a "stand-by power problem" on a Qantas flight that later lost power on approach to Bangkok, a passenger's father said.

The man, who did not want to be named, said his adult daughter told him that the QF2 from London to Bangkok was delayed for about 90 minutes on the tarmac at Heathrow Airport before departing for Thailand on Monday.

The man said his daughter said she and other passengers were angry they were not told more about the problem and at being stranded in Thailand for an extra day.

A Qantas spokeswoman was unable to say what systems were affected on the flight or for how long the aircraft lost power.

The Australian Transport Safety Bureau said it had been told the power from the main generators was lost 15 minutes away from Bangkok.

The pilot was then forced to switch to battery back-ups for the landing.

"This incident involved loss of electrical power on a Boeing 747 on descent into Bangkok," Qantas chief pilot, Chris Manning, said in a statement.

"The back-up system was activated and the aircraft landed safely," Captain Manning said.

"Qantas reported the incident to Boeing, the Australian Transport Safety Bureau and the Civil Aviation Safety Authority and is also conducting its own thorough investigation. The aircraft is currently being repaired and assessed."

A spokeswoman added: "Because it is under investigation, we are unable to provide any further information at this stage."

If the power failure had occurred further away from an airport there could have been a serious accident, Australian Transport Safety Bureau deputy director of aviation Julian Walsh said.

"Obviously there's a limit to the battery power that's available," Mr Walsh said.

"Obviously, if they were a long way from an airport then clearly there would have been potential for some sort of accident.

"All we've been advised is that there was a failure of the four electrical generators on the aircraft 15 minutes out of Bangkok – it's quite unusual."

Readers have told smh.com.au about two possible instances of problems in the power generators of other Qantas planes.

Andrew Valentine said his Qantas flight was delayed at Changi Airport in Singapore on Saturday after the pilot told passengers the power had failed.

"The auxiliary power came on, there were lights on the walkway and the exit lights came on," Mr Valentine said.

"We could see but the air-conditioning went off. It was eerily quiet.

"The pilot then came over the intercom. He stated that the power had failed, they were going to restart the system and if that didn't restart we would be towed back to the gates.

"Everyone was pretty calm, I've taken a couple of hundred flights and that's never happened."

He said that the 747-400 flight, QF 10 from Singapore to Melbourne, was towed back to the gate and departed 10 minutes late.

"The pilot told us that they'd try and restart," he said.

"Which after about 10 minutes worked OK and we continued onto Melbourne OK without any further incident."

Another Qantas customer, Dave D'Astoli, said a pilot on a Canberra to Melbourne flight yesterday told passengers that the auxiliary power unit had broken down.

"When we boarded the aircraft the temperature was 40 degrees Celsius due to the fact that the APU was broken down," Mr D'Astoli said.

"Once doors were shut and engines lit all was normal … [the] flight proceeded without incident."

Comment is being sought from Qantas.

AAP reports: Industrial action planned by Qantas engineers for today has been postponed.

The Australian Licensed Aircraft Association (ALAEA) has put off a plan to refuse to work overtime following failed negotiations with management over pay rises.

The union is demanding a 5 per cent pay rise for up to 1700 engineers nationwide, but the airline is offering only a 3 per cent increase.

"The bottom line is, we met [on Tuesday], we had a productive meeting and we're going to meet again [on Wednesday]," head of Qantas Engineering David Cox said.

The industrial action planned for Wednesday is now scheduled for Friday, but it would not disrupt flight schedules, Mr Cox said.

"This sort of action we could manage – it's low level," he said.

"Obviously, if it escalates further, then it escalates further."

The union has vowed to call four-hour stop-work meetings if Qantas takes action against any union members for taking part in industrial action.

Such meetings would potentially ground all Qantas flights, because jets cannot take off until they have been cleared by a licensed engineer.

This story was found at: http://www.smh.com.au/articles/2008/01/09/1199554708603.html
I think this is an extremely interesting story for a number of reasons.
First of all, I was struck by the sentence: "If the power failure had occurred further away from an airport there could have been a serious accident, Australian Transport Safety Bureau deputy director of aviation Julian Walsh said". Loosing all the electical power is something extremely remote. I don't even know if this kind of emergency is run through simulator during normal training. Just think how rare this emergency could be. In this case, it seems that the loss of power was caused by a blocked drain in a First Class galley that overflew onto a cracked drip tray that leaked some water into the generator control unit. Without electrically generated power, only a few instruments and a single radio can be operated until the battery is alive. For this reason, some aircraft are equipped with a RAT (Ram Air Turbine) that is extracted to generate electrical and/or hydraulic power. The B.767, the B.757, the A.380 and many more (F-104 comprised) are equipped with a RAT on either the fuselage or the wings. The B747-400 is equipped with 4 generators and an APU (Auxiliary Power Unit), even if this latter can't be started in flight. Without the electic power of the generators, the B747 can rely on the battery and power generated by the 4 windmilling engines; furthermore, the Jumbo is not a fly-by-wire aircraft and flight controls don't need electrical power. However, batteries' life is limited to an hour or so and after that period of time, pilots could rely only on a handful instruments. Experiencing such an emergency in the midst of the Ocean, among the clouds, in IFR IMC conditions, with a distant diverting field to reach, could be a nightmare also for every B747 pilot. Spatial disorientation could be a serious risk so landing as soon as possible would be paramount; QF2 was lucky to experience the emergency during its descent to Bangkok, a few minutes from landing.
Second, this story made me think to another accident occurred to a Qantas Jumbo in Bangkok: on September 23rd 1999, at about 22.47 LT, a Qantas Boeing 747-438 "VH-OJH" (c/s Qantas One) overran RWY21L while landing at Bangkok 21 Left (21L) while landing at Bangkok International Airport (Don Muang, now Don Muaeng). The aircraft landed long and was unable to stop within the runway because of the aquaplaning. The aircraft suffered substantial damage but nobody was serioulsy injured. Actually, the overrun occurred at the old Bangkok International airport while the QF2 experienced the loss of power 15 minutes out of the new Bangkok International airport: Suvarnabhumi.
Third, in May 2007 I flew with both Qantas flights whose B747-400 have experienced power generator failures: QF2 LHR – BKK and QF10 SIN – MEL.
Maybe the explaination is the following: "QANTAS has found more problems with cracked drip trays in its jumbo jet fleet, suggesting the potentially disastrous problem is more widespread than first thought". Read the whole article: http://www.theaustralian.news.com.au/story/0,25197,23035688-2702,00.html
My QF2 ticket (issued from BA):