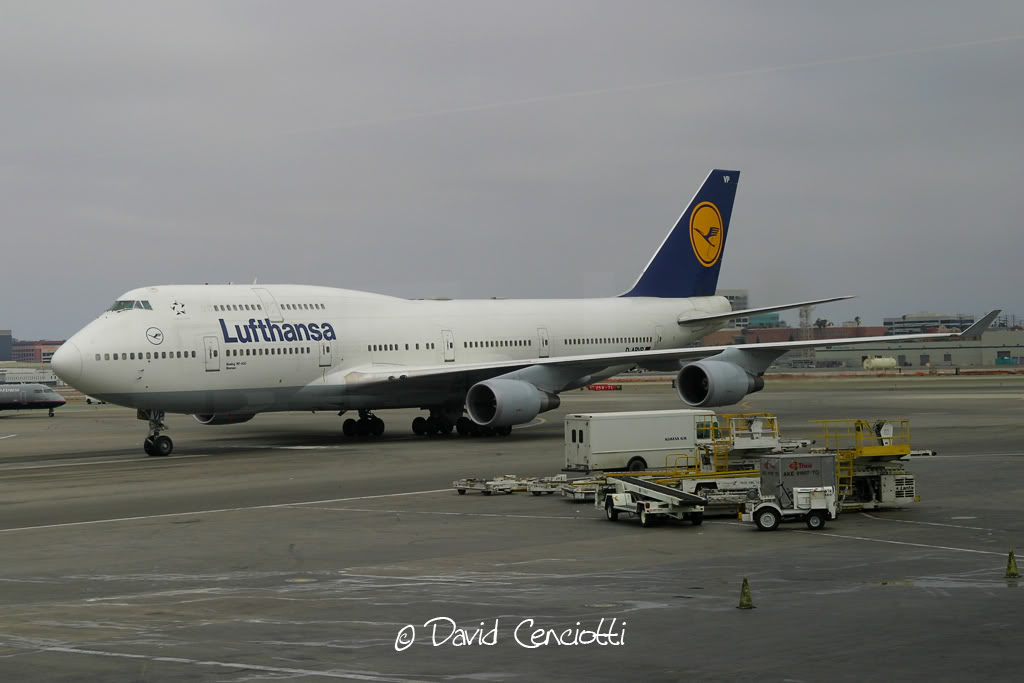 It seems like, all of a sudden, one the most safe, famous and beatiful aircraft, the B747-400, has been experiencing (age?) problems. On Jul 29, a B744 (747-400) of the Cathay Pacific Airways, flying from New York to Hong Kong via Vancouver with 363 passengers, performed an emergency landing in Vancouver, as an external panel suffered an unspecified damage (it is not clear whether it separated from the fuselage or not yet). The episode happened just a few days after another B747-400, operated by Qantas Airways, was forced to make an emergency landing in Manila after suffering a hole in the fuselage and the subsequent decompression of the cabin during a flight from Hong Kong to Melbourne.
The B744 has one of the best safety rates ever achieved by an airliner and despite some minor problems (and a near w/o damage – the one of the Qantas -400ER "VH-OJH" that, as QF1, on Sept. 23 1999, overran the runway at Bangkok International – that returned to service as the most expensive repair in the history of aviation), only 3 out of 631 747-400 built, were written off by accidents:
On Nov. 4, 1993, a China Airlines B747-409 skidded off the wet runway at Kai Tak airport in Hong Kong and ended up in the waters of the Hung Hom Bay. All of the 396 on board escaped safely.
On Aug. 5 1998, a Korean 744 slid off the Kimpo International Airport at Seoul. 395 peopel on board and 0 fatalities.
On Oct. 31 2000 a Singapore Airlines 747-400 taking off from from Taipei Chang Kai Shek airport in Taiwan under bad weather conditions took the wrong runway (05R instead on 05L) and hit equipment used for the contrusction work crashing back onto the runway causing 83 fatalities out ot the 179 people on board.
Dealing with the whole 747 fleet in all versions (1358 in total), the records are slightly worse than the average but in part because the Jumbo was soon targeted by terrorists attacks.
The 747-400 flew for the first time 20 years ago and even if it can't be considered a new aircraft (it is largerly based on a 40 years old concept), it is not even an obsolete aircraft. I think that there is not a particular reason for the number of failures the -400 fleet is experiencing in the last period (don't forget the QF2 loss of electric power some months ago) even if age could be a contributing factor. However, it is not a rule that obsolete aircraft have always more problems than younger ones. During the first period, you could discover a series of glitches that will be fixed and will not affect the same aircraft decades later.
As sometimes happens in aviation, there are some periods in which a certain number of problems occur to the same kind of aircraft. Do you remember the 777 (engine) problems that were widely discussed in this site? You can call it coincidence or bad luck but, in my opinion, an airplane is not a car and does not begin to give problems just after it is no longer covered under your warranty.
As said, the age of the aircraft can be a contributing factor (you can discover a glitch towards the end of the operative life of the aircraft – for example a part deteriorates quicker or in a different way than expected); however, provided that a problem is widespread and interests all the fleet, it is at least unlikely that it will surface on different aircraft (with different routes, different flight hours, different maintenance check schedules, etc) more or less at the same time. So, even if I have no idea about what may have caused the fuselage damage in the Cathay aircraft I think that, statistically, it will not be the same problem experienced by the QF30 and I would be more than happy to board a 747-400 for a long haul flight tomorrow!
I took the following picture of a Lufthansa B747-400 through the window of the International terminal at Los Angeles International airport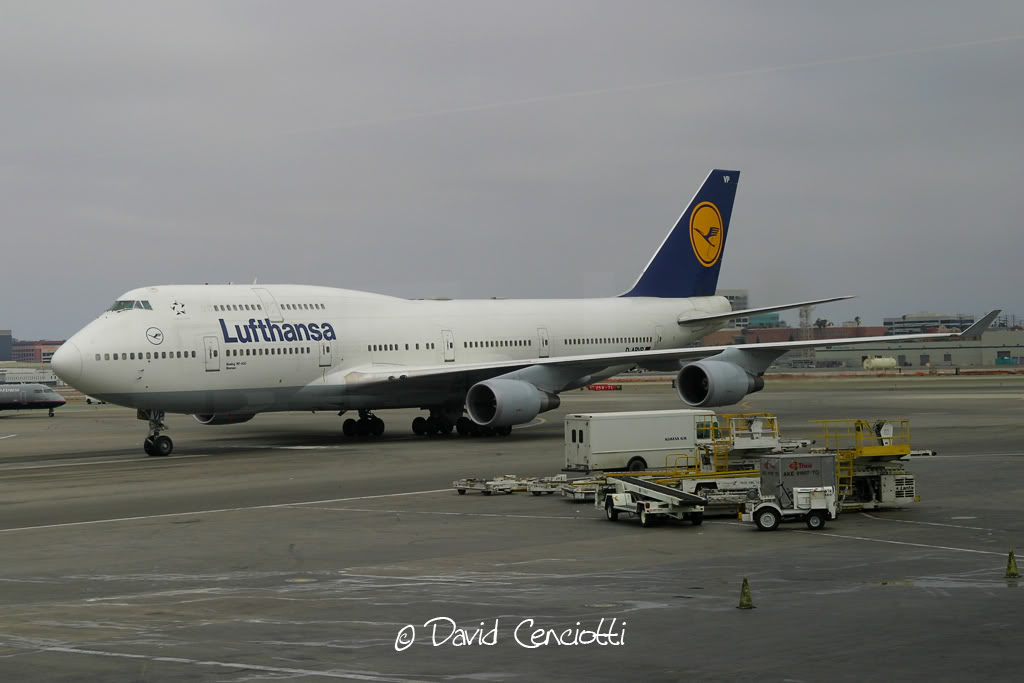 Just a quick update about the QF30 investigation from the ATSB website:
Investigation into Boeing 747- 400 depressurisation and diversion to Manila, Philippines
29 July 2008

The ATSB is leading this safety investigation with the assistance of a number of other organisations and agencies, including the Civil Aviation Authority of the Philippines, The National Transportation Safety Board and the Federal Aviation Administration of the USA, the Civil Aviation Safety Authority of Australia and Qantas and Boeing.

Yesterday the aircraft was moved to a hangar. This will provide a safer and more optimal working environment for the investigation team.

The remainder of the freight on the aircraft has been progressively examined and removed from around the area of the rupture. This has allowed the investigation team full access to the area. The team have also been examining and clearing the area adjacent to the disrupted right cabin door.

The investigation team are in the process of examining the interior of the cabin including the onboard oxygen system, the passenger masks and portable crew oxygen cylinders. The aircraft outer panels around the ruptured area have also been removed.

A number of components and parts of components are being retained for further examination and analysis at the ATSB engineering facilities in Canberra.

Last night the aircraft cockpit voice recorder (CVR), which records crew conversations, radio traffic and cockpit ambient sounds, was downloaded by ATSB specialists in Canberra. Unfortunately, the standard two hour recording which works on an endless loop principle did not contain the event. The oldest recording commences after the descent and diversion into Manila, so the event itself appears to have been overwritten. However, the information that has been captured on the CVR may provide valuable insights into the flight crews handling of the situation following the depressurisation.

The aircraft flight data recorder (FDR), which nominally records 25 hours of data, is being downloaded today at the ATSB Canberra facilities. The specialist team should know in the next day or two if the recording contains valid data.

The investigation team plan to continue the examination and collection of evidence from the aircraft. ATSB investigators in Australia are gathering data from the operator. Interviews with both flight crew and cabin crew are being conducted today in Melbourne.

A reminder that the ATSB requests that any passengers that experienced issues during the flight, or those who photographed or videoed the incident, contacts us via email at atsbinfo@atsb.gov.au
Media Contact: George Nadal: 1800 020 616