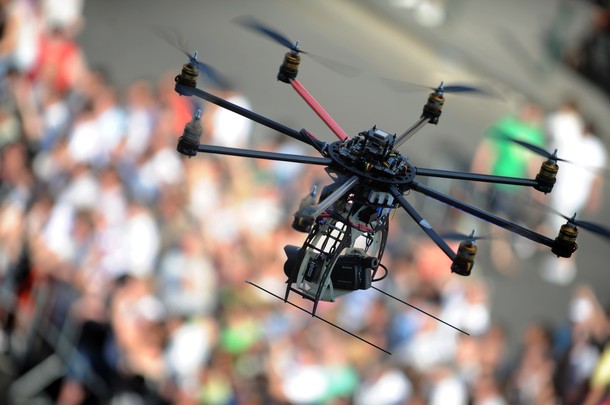 TV coverage of sport events once relied on helicopters. Today, live video is provided by cameras carried by micro-drones like the one depicted in the image below.
Used to film auto or skiing races, such "Octocopter robots" are slightly becoming distinctive features of our lives and, sooner or later, they will be used for surveillance, spying and law enforcement purposes in urban scenarios, in the same way current police helicopters are dispatched over our heads seeking criminals.
At least, being small and light, they will be less dangerous than Predator or Reaper UAVs whose greater freedom in much crowded airspaces is seen as a safety nightmare by many analysts.
In the near future they will also be transformed into deadly war machines: give 'em more endurance and enough payload to carry also a gun (or a mini-gun), and it's sorted.
Image credit: ATTILA KISBENEDEK/AFP/GettyImages
By the way, the above 'bot was photographed on May 1, 2012 during a special F1 car show in Budapest organized by Hungaroring Zrt and Vodafone Zrt.
Related articles