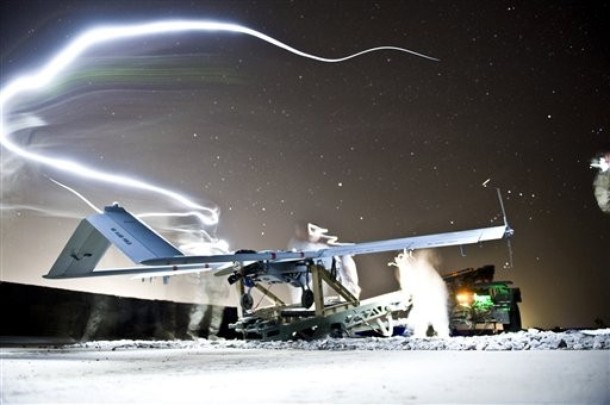 The following AP photo shows an RQ-7 Bravo UAV (Unmanned Aerial Vehicle) being prepared for launch at Forward Operating Base Pasab, in Kandahar province, Afghanistan.
It is particularly interesting because it was taken with a long exposure: the headlamps and bodies of a crew from the 508th Special Troops Battalion, 4th Brigade Combat Team, 82nd Airborne Division of the US Army are blurred as they prepare the drone for a night mission.
AP Photo/The Fayetteville Observer, James Robinson
Night flying will be routinely performed during the summer months, not only for tactical purposes, but also because of fuel-leak problems caused by extreme heat: an internal US Marine Corps review of air operations in combat, released in October and available here, raised some questions about the possibility to employ the Shadow for daytime missions.
(U//FOUO) VMU-1 established a "hot weather schedule" during the summer months due to
temperatures that could reach as high as 135 degrees Fahrenheit on the runway.  This
extreme heat could cause the Shadow's wings to swell and vent fuel.
Obviously, April temperatures are not even comparable to the Afghanistan's intense summer heat that, according to a Marine Corps Time article, forced the service to fly daytime missions with smaller drones.
A Shadow drone collided midair with an Air Force C-130 in Afghanistan on Aug. 15, 2011. The robot struck the Hercules's left wing between the engines: although damaged, the aircraft managed to land safely, whereas the RQ-7 crashed.
Looks like summer is not a lucky season for the drone that the USMC wants to "weaponize" as soon as possible.
Related articles