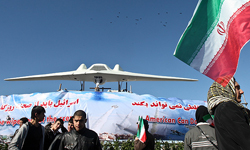 On Feb.11, a model of the U.S. stealthy RQ-170 drone captured on Dec. 4, 2011, was displayed at Tehran during the pro-government rallies marking the 33rd anniversary of the victory of the Islamic Revolution.
According to the Fars news agency that has released a very small image taken by the Iranian ralliers, the spy robot model has been built by the aerospace unit of the IRGC (Islamic Revolution Guards Corps).
Although the one displayed at Tehran is a model (even if some are still uncertain whether the one seen in the aftermath of the capture is real or fake), this can be considered the first public appearance of the Lockheed Martin RQ-170 Sentinel since it was showcased for the first time by Iran after it was recovered.
Noteworthy, whereas the alleged real one had its underbelly completely hidden, the 1:1 model on display on Feb. 11 seems to have the undercarriage extracted and clearly visible.
Few weeks ago Iranian media gave the news that a 1:80 reproduction of the RQ-170 was produced to be put on the market and would be sent as a gift to President Obama, who asked the return of the "Beast of Kandahar" captured by Tehran.
Image credit: Fars news agency
Related articles