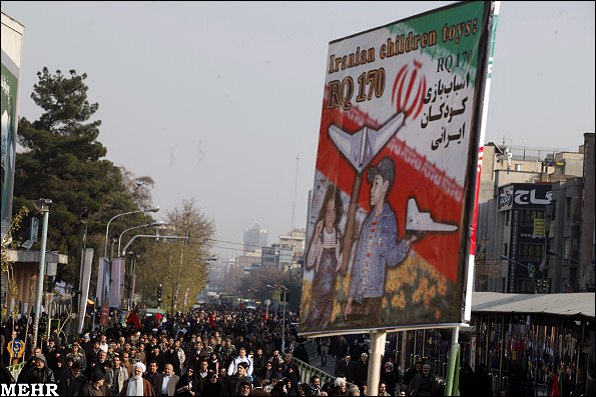 Update Jan. 17 13:15 GMT
Around $4: this is the expected price of the 1:80 reproduction of the stealthy RQ-170 drone captured on Dec. 4, that a group of Iranian youths has decided to produce and market at their own expense.
Iranian Radio Payam gave the news that the toy will be showcased on Feb. 1, in a special ceremony for the 34th anniversary of the victory of the Islamic Revolution in Iran, and will be sent as a gift to President Obama, who asked the return of the "Beast of Kandahar" captured by Tehran in mysterious circumstances.
According to some websites, the 30×14 cm scale model will have an inscription: 'We will trample the U.S.'
Images of the new Iranian children toy's ads have already appeared….
Above image: Mehr news agency
Maybe this is what Iran meant they said that they had already reverse-engineered the U.S. 'bot.
This is not the first time a U.S. stealthy aircraft becomes a scale model. You'll remember the Stealth Black Hawk model by the Chinese Dragon.
By the way, some (more expensive) RQ-170 models are already sold on eBay.
I don't know the actual price, but some luxury RQ-170 models are already sold in Iran too, as shown on the Aaye Art Group here.
Above image from Aaye Art Group website.
In the meanwhile the U.S. Air Force said it has understood what caused the crash of its spy robot although it didn't disclose details. Noteworthy, the RQ-170 is still operating in Afghanistan (and maybe even on the eastern border with Iran) meaning that they are either confident Tehran has nothing to do with the crash landing or they have fixed the technical glitch which might have been the root cause of the incident.