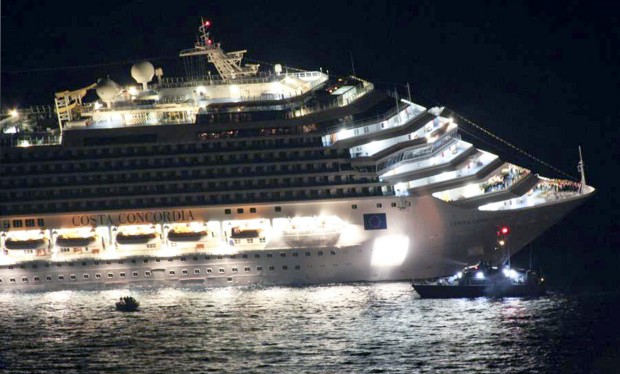 Update Jan. 16 21:37 GMT
On Jan. 13, at around 21.45 LT, the Costa Concordia luxury cruise ship, ran aground on rocks off the Isola del Giglio Island. As a consequence of the impact, the ship began listing until it lying on its starboard side resulting in the death of six of 4,234 people on board. At the time of writing, 29 are still missing.
Image source: LaRepubblica.it
An investigation is in progress and, although the captain blamed the disaster on rocks which were properly signalled on his charts, human error seems to be the root cause of the accident.
Indeed, it seems that, in order to show the cruise ship to locals, Capt Francesco Schettino went off the planned route and sailed too close to the island.
The route followed by the ill-fated ship can be seen using AIS (Automatic Identification System), an automatic tracking system used by ships and Vessel Traffic Services (VTS) for identification and geo-localization of vessels, by mutually exchanging data with other ships and AIS Base stations.
The AIS is the naval homologous of the ADS-B used by airplanes and it is used for collision avoidance, search and rescue, accident investigation and for aids to navigation. It is mainly used by commercial vessels even if some military ships transmit AIS data. For instance, US Coast Guards sends AIS and even some US Navy supercarriers have been reported to trasmit AIS signals every now and then.
As soon as the distress message was sent, many helicopters were launched to provide search and rescue in the sea surrounding the wrecked ship. Up to 9 choppers belonging to the Guardia Costiera (Coast Guard), Marina Militare (Navy), Aeronautica (Air Force) and Guardia di Finanza (Custom Police),  Carabinieri (Military Police), Vigili del Fuoco (Firefighters) and Corpo Forestale (Forestry Service) have been overflying the Costa Concordia, operating from Grosseto airbase, that was used as a forward operating base for the rotary wing aircraft involved in the rescue.
Above images: Reuters
Although they were all equipped with the hoist hence capable to recover people from the water, during the emergency the helicopters belonging to the Armed Forces and to the Armed Corps rescued "only" 18 people, since the majority of the +4,000 shipwrecked persons were evacuated using lifeboats.
However, the helicopters were particularly useful to look for survivors in the water with the Night Vision Goggles, to carry wounded people to the inland hospitals and to bring speleologist scuba divers and special rescue teams on board to look for more survivors inside the capsized ship.
Noteworthy, during the first stages of the emergency, the HH-3F of the 85° Centro SAR from Pratica di Mare acted as On-Scene Commander, coordinating all the air assets entering or exiting the area of operations.