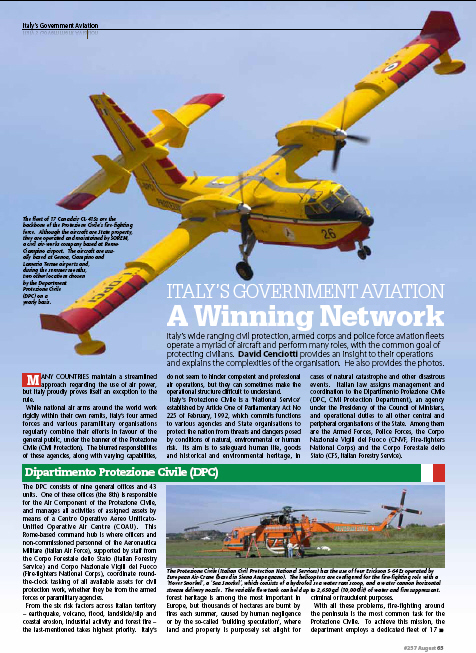 I wrote the below article for the August 2009 issue of Air Forces Monthly. As the Italian Civil Protection often makes the news as happened during the relief effort after the April 2009 earthquake in L'Aquila, or, more recently, on Jan. 25, 2010, when its chief, Guido Bertolaso, described the international earthquake relief effort in Haiti as "pathetic" and blamed the lack of central coordination among the various relief agencies operating in the island, I thought it could be interesting, especially for the foreign readers, to have an in-depth look at the Italian Civil Protection service (with a particular focus on their air component) that is frequently considered a model to follow.
Italy's Government Aviation – a winning network
MANY COUNTRIES maintain a streamlined approach regarding the use of air power, but Italy proudly proves itself an exception to the rule. While national air arms around the world work rigidly within their own remits, Italy's four armed forces and various paramilitary organisations regularly combine their efforts in favour of the general public, under the banner of the Protezione Civile (Civil Protection). The blurred responsibilities of these agencies, along with varying capabilities, do not seem to hinder competent and professional air operations, but they can sometimes make the operational structure difficult to understand. Italy's Protezione Civile is a 'National Service' established by Article One of Parliamentary Act No 225 of February, 1992, which commits functions to various agencies and State organisations to protect the nation from threats and dangers posed by conditions of natural, environmental or human risk. Its aim is to safeguard human life, goods and historical and environmental heritage, in cases of natural catastrophe and other disastrous events. Italian law assigns management and coordination to the Dipartimento Protezione Civile (DPC, Civil Protection Department), an agency under the Presidency of the Council of Ministers, and operational duties to all other central and peripheral organisations of the State. Among them are the Armed Forces, Police Forces, the Corpo Nazionale Vigili del Fuoco (CNVF, Fire-fighters National Corps) and the Corpo Forestale dello Stato (CFS, Italian Forestry Service).
Dipartimento Protezione Civile
The DPC consists of nine general offices and 43 units. One of these offices (the 8th) is responsible for the Air Component of the Protezione Civile, and manages all activities of assigned assets by means of a Centro Operativo Aereo Unificato- Unified Operative Air Centre (COAU). This Rome-based command hub is where officers and non-commissioned personnel of the Aeronautica Militare (Italian Air Force), supported by staff from the Corpo Forestale dello Stato (Italian Forestry Service) and Corpo Nazionale Vigili del Fuoco (Fire-fighters National Corps), coordinate roundthe-clock tasking of all available assets for civil protection work, whether they be from the armed forces or paramilitary agencies. From the six risk factors across Italian territory – earthquake, volcano, flood, landslide/slip and coastal erosion, industrial activity and forest fire – the last-mentioned takes highest priority. Italy's forest heritage is among the most important in Europe, but thousands of hectares are burnt by fires each summer, caused by human negligence or by the so-called 'building speculation', where land and property is purposely set alight for criminal or fraudulent purposes. With all these problems, fire-fighting around the peninsula is the most common task for the Protezione Civile. To achieve this mission, the department employs a dedicated fleet of 17 Bombardier CL-415s, based in Ciampino, Lamezia Terme and Genoa, but the aircraft are deployable to other airports, and operated and maintained under an outsourcing contract by the company SOREM. Four Erickson S-64E helicopters are also available, and operated by European concern Air-Crane (based in Siena Ampugnano) under a 'wet lease' contract (includes the provision of helicopters, maintenance and crews). Other aircraft are occasionally leased to boost numbers for a single season if necessary, for experimental purposes or for multiple firefighting campaigns. For example, since 2006 the Department has leased Avialsa's Air Tractor AT-802F FireBoss, an asset that during the summer of 2008 was temporarily deployed to Falconara, Foggia and Grottaglie, as a precautionary measure. The DPC is equipped with six helicopters: Five Agusta Westland A-109s perform surveillance, antipollution monitoring and MEDEVAC (MEDical EVACuation) tasks, while one AW139 is used for reconnaissance and transport missions, and four Piaggio P.180s, which are mainly used for short- and medium-range VIP transport. These four aircraft are operated by the Compagnia Aeronautica Italiana, based in Rome Ciampino. In reality, the 'virtual' fleet of aircraft, which can serve the department for civil protection purposes, is much wider. Should the need arise, the Protezione Civile can request any other institution to support emergency operations, with mission-specific aircraft. A good example is the emergency caused by the earthquake that hit the Abruzzo region on April 6, 2009. It killed 300 people, destroyed many buildings and left thousands homeless, but to help with post-quake damage assessment a Piaggio P.166DL3 APH twin-prop, of the Pratica di Mare-based 14° Stormo, Aeronautica Militare, was fitted with Leica RC-20 and RC-30 cameras for gathering photographic evidence. Also, every year the department's fire-fighting fleet is strengthened by aircraft and helicopters belonging to the Armed Forces or to a public service agency, or even by French assets of the Sécurité Civile under a mutualsupport agreement.
Corpo Nazionale Vigili del Fuoco
The entire State organisation is capable of co-operating in times of natural calamity. Although fire-fighting is the main mission of the Corpo Nazionale Vigili del Fuoco (CNVF, Firefighters National Corps), the fleet of this agency can fulfil  many different tasks depending on the needs of the Ministry of the Interior, from search and rescue (SAR) to support of nuclear, biological, chemical, and radioactivity (NBCR) sorties to survey emissions in a particular area. The air component of the Vigili del Fuoco is controlled from a main operating base, Ciampino, home of the Centro Aviazione, and eleven flying units (Arezzo, Bari, Bologna, Catania, Genova, Pescara, Salerno, Sassari, Torino, Varese-Malpensa, Venezia), and it is equipped with 40 aircraft: 15 AB-206s, 22 AB-412s, three A-109 Powers, and a single P.180 Avanti for liaison purposes.
Polizia di Stato
Also depending on the Ministry of the Interior is the Polizia di Stato (PS, or State Police), responsible for public order and internal security. The PS is one of five Corpi Armati dello Stato (Armed Corps) auxiliary forces. They conduct law enforcement, policing, border control or security duties that do not involve the Ministry of Defence, but the PS is a paramilitary organization with similar training and equipment to the military. There is a duplication of roles between the Polizia and the Carabinieri (Military Police). The latter, as an armed force, not only holds responsibilities for public order and internal security, it also plays a role in the defence of the nation and participates in military operations, in Italy and abroad. The Air Division of the Polizia comprises 11 Reparti Volo (flying units) based in Pratica di Mare, Malpensa, Bologna, Palermo, Reggio Calabria, Naples, Abbasanta, Florence, Bari, Venice and Pescara. They are equipped with 29 AB-206s, eleven A-109s, 23 AB-212s, 18 P.68s and a P.180 Avanti.
Guardia di Finanza
Another Armed Corps is the Guardia di Finanza (GdF, or Customs Police), an agency backed by the Ministry of Economy and Finance, whose mission is prevention, suppression and the reporting of tax evasion, fighting financial crimes and smuggling, and investigating conflict and misdemeanours against legal and financial regulations. It also contributes to the maintenance of public order and security. The Aeronaval Service of the GdF counts on 109 aircraft that equip both the High Seas component and a Regional component. The High Seas is for long-range reconnaissance, which includes one Aeromaritime Exploration Group (based in Pratica di Mare) and five Aeronaval Groups (with aircraft based in Cagliari, Catania, Pisa and Grottaglie). The Regional component is made of eleven Sezioni Aeree (Air Branches), at Bari, Napoli, Bolzano, Genoa, Palermo, Pratica di Mare, Venegono Superiore, Lamezia Terme, Pescara, Rimini and Venice, which perform economic-financial police tasks within territorial waters. The GdF fleet comprises NH-500MD, A-109GdF, AB-412, P.166DL3 SEM, P.180 and ATR-42MP used for patrol, 24hr surveillance, reconnaissance and SAR.
Corpo Forestale dello Stato
Also an Armed Corps, the Corpo Forestale dello Stato (CFS, Italian for Forestry Service) operates under the authority of the Ministry of Agriculture, Food and Forestry. This agency acts as a police and ranger force, responsible for protecting Italy's natural and environmental resources and eco-systems. Its duties include the prevention of environmental violations and wildfires, safeguarding animal species, ensuring antipoaching and habitat protection, and providing SAR in mountainous areas. The CFS has a fleet of helicopters, managed by the Centro Operativo Aeromobili (COA – Italian for Aircraft Operative Centre) and coordinated along with other national assets involved in fire-fighting activities, by the COAU of the DPC. The COA is headquartered at Rome-Urbe airport and is equipped with 11 NH-500s, 14 AB-412s, four Erickson S-64Fs and three AW-109Ns used for fire-fighting, early spotting of wildfires, and coordination of other aircraft or with ground-based firefighters. The Service also owns a P.180 fitted with a forward looking infra-red (FLIR)/TV camera system for ground surveillance in anti-pollution monitoring and geological/wildlife control, which can easily be configured as an air ambulance by means of a medical kit, and can ferry specialized teams or VIPs to various helicopter stations. In summer, the aircraft are strategically deployed in areas where wildfire risk is higher: between June 20 and September 30, two S-64Fs are usually located at Lucca and Albenga, while the rest of the fleet resides at Cecina, Roma-Urbe, Pescara, Foggia and Lamezia Terme airports.
Guardia Costiera
The Guardia Costiera (GC or Coast Guard) is a branch of the Marina Militare (Italian Navy) with tasks connected to civilian use of the sea. The GC has not a single hierarchical dependence since it reports to the Ministry of Infrastructure and Transport, and to other ministries according to the missions undertaken. Its main activities are SAR, safe navigation enforcement, marine environment protection (with functional dependence on the Ministry for the Environment), control of fisheries (answering to the Ministry of Agricultural, Food and Forestry Policies) and maritime policing. The Coast Guard's air component centres around three Nuclei Aerei (fixed-wing units), which are based in Sarzana, Catania and Pescara, and two Sezione di volo Elicotteri (rotary-wing units), in Sarzana and Catania. The service uses nine AB-412CPs, six P.166DL3 SEMs and two ATR-42MPs, for SAR, surveillance, reconnaissance, remote-sensing, maritime patrol and MEDEVAC duties.
The sheer number of agencies, with their acrossthe-board remits, might cause one to expect discord or competition between them, but it is clear that this is far from the case. Juggling many different types of aircraft and equipment can also bring its own problems, but the controlling officers and operational crews have seemingly reached an understanding to ensure clear communication, goal-orientated planning and a unified agenda when it counts. 'Teamwork' is obviously the mantra for the agencies and personnel involved, and Italy's aviation framework provides a salutary lesson for other governments.