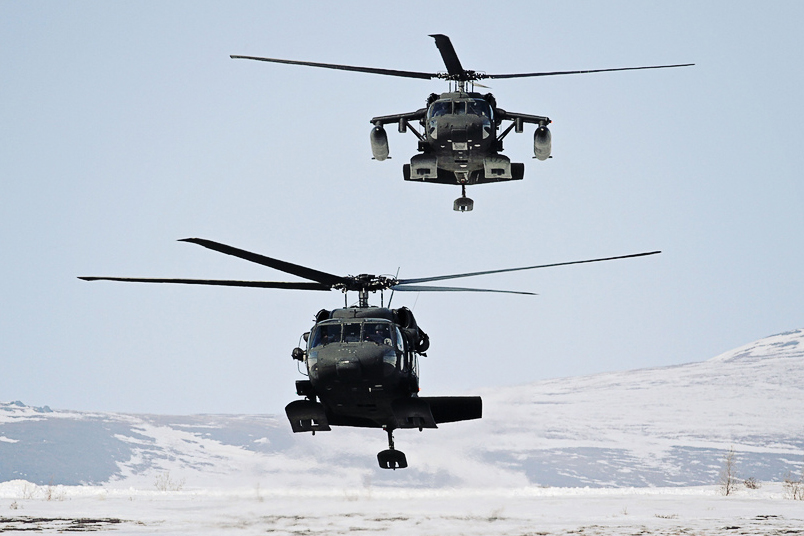 In the image below, a pair of Alaska Army National Guard UH-60 Black Hawk helicopters (in an interesting configuration including snow pads) prepare to land at the Alaska Army National Guard Army Aviation Support Facility in Nome, Alaska, on Apr. 17, after supporting exercise Arctic Care 2012 operations in Brevig Mission, Alaska. Arctic Care is a recurring joint military medical readiness and logistics training exercise, providing medical care to underserved populations in remote areas of Alaska.
DoD photo by Maj. Guy Hayes, U.S. Air Force/Released
Marine One with U.S. President Barack Obama on board lands into the South Lawn of the White House on Apr. 18 at the end of a day trip to Ohio and Michigan.
Image credit: Getty Images
Taken in a remote jungle region in southern Peru, Cuzco, on Apr. 17, the following picture shows the helicopter wreckage of police officer Nancy Flores, killed during an armed encounter with Shining Path rebels. The group is responsible for the kidnapping of 36 gas pipeline workers who were released on April 14 and has participated in the killings of four police and military officers during the rescue missions of the hostages in the remote jungle region around the Ene and Apurimac valleys (VRAE) in southeastern Peru.
Image credit: Reuters
Below, Soldiers from The Royal Regiment of Scotland (5 SCOTS) carried by a Chinook helicopter during the 16 Air Assault Brigade Exercise Joint Warrior at West Freugh Airfield, Stranraer, Scotland on Apr. 16. The Airborne Task Force (ABTF) used a combination of parachute, air assault and Tactical Air Landings (C130 Hercules) to seize and secure the airfield at West Freugh during the JW exercise that was supported by RAF tactical planes, Joint Helicopter Force's Apache, Chinook, and RN Sea King as well as several US, French aircraft.
Image credit: PETER MUHLY/AFP/Getty Images
Below, a Colombian police chopper overflies Cartagena, Colombia, prior to the arrival of President Barack Obama and Colombia's President Juan Manuel Santos for a land titling event for Afro-Colombian communities on Apr. 15.
Image credit: AP Photo/Fernando Llano
The caption of the following image reads: "An Indian firefighter looks on near a Schweizer helicopter that made an emergency landing on the rooftop of a residential building in Bangalore on April 12, 2012. A trainee helicopter pilot made an emergency landing on the rooftop of an apartment building in a busy residential district in southern India on Thursday after developing engine trouble."
Image credit: STRDEL/AFP/Getty Images
A view from inside a helicopter performing armed overwatch of Cartagena, Colombia, on Apr. 12 for the sixth Summit of the Americas.
Image credit: AP Photo/Fernando Vergara
An Irish Coast Guard helicopter reaches Titanic Memorial Cruise ship MS Balmoral, in the Atlantic Ocean off Ireland on Apr 10, to perform a the medical evacuation of a man suffering from a heart ailment. The ship headed back 20 nautical miles towards Ireland in order to be in range for a helicopter tasked with evacuating a man with a non life threatening heart condition.
Image credit: REUTERS/Chris Helgren
Barely visible on the upper part of the picture, a firefighting helicopter drops water to extinguish fire atop the Europe's tallest-to-be tower under-construction which burns in central Moscow, late on Apr. 2. Located some 2 km west of the Kremlin, when completed, the tower will be 360 meters (1150 feet) tall.
Image credit: LEV MASLOV/AFP/Getty Images
Related articles