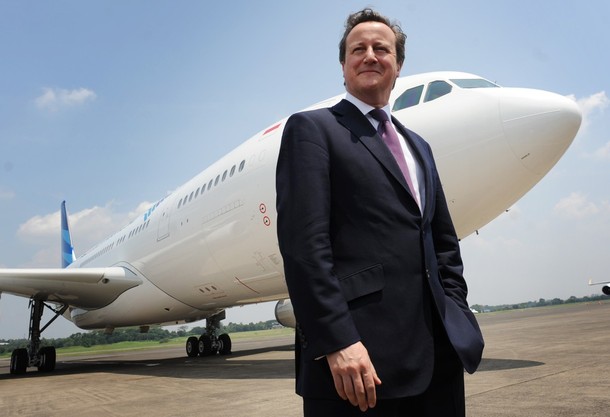 The Royal Family and senior UK politicians may consider using one of the RAF's "Voyager" Airbus A330 tanker aircraft for future foreign trips after a rather embarrassing trade trip to Indonesia caused a huge row.
David Cameron and his aides made the trip during the Easter period to drum up trade for European built Airbus planes (11 Airbus 330 aircraft for Garuda Indonesia airlines) using a "rented" Boeing 747. Insult was added to injury when it emerged that the lease was given to Atlas Air, a US based company, and the plane used for the journey was owned by Sonair, an Angolan carrier banned from European Union airspace over safety concerns.
David Cameron poses in front of a Garuda Indonesia Airlines Airbus during a visit to Jakarta Airport (Photo by Stefan Rousseau – WPA Pool/Getty Images)
Cameron's advisors were quick to point out that they usually charter British Airways or Virgin Atlantic for foreign travel, but both airlines were busy Easter holiday and were unable to support the trip.
Since it is at least weird that a business delegation trying to support Airbus planes sales uses chartered Boeings, Britain's aerospace lobby group said that proposals were being drawn up to let Britain's VIP to use one of the modified A330 airliners.
According to Reuters, Robin Southwell, head of the UK aerospace industry's lobbying association and also head of Airbus' parent company in the UK said: "he would propose the alternative use of the Royal Air Force jets when not needed for refuelling missions."
Southwell compared the use of the 747 to a luxury car salesman turning up in a tatty used Jaguar when he said: "If you are trying to sell an Aston Martin to someone and you turn up in a used Jaguar and say that the Aston Martin is the best thing since sliced bread and then drive off in the Jaguar, it isn't as smart as turning up in the model you are trying to sell."
The RAF's fleet of 14 leased Voyager aircraft can be used to refuel other aircraft or carry troops or casualties, pretty much the same as the current VC-10 and Tristar tankers. Voyager takes this one step further in that the refuelling pods under the wings can be removed to make the plane a little less military looking jetliner in RAF colours.
It has to be said that a Voyager in RAF low-vis grey will not look as stunning at President Obama's VC-25As Air Force One or other European leaders' Airbus based aircraft.
Anyway, before using them to support diplomatic lobbying, maybe the UK should try to use them to refuel its Tornado strike planes that experienced worrying leakage problems during recent aerial refueling tests.
David Cenciotti has contributed to this article.

Image credit: Martin Hartland
Related articles