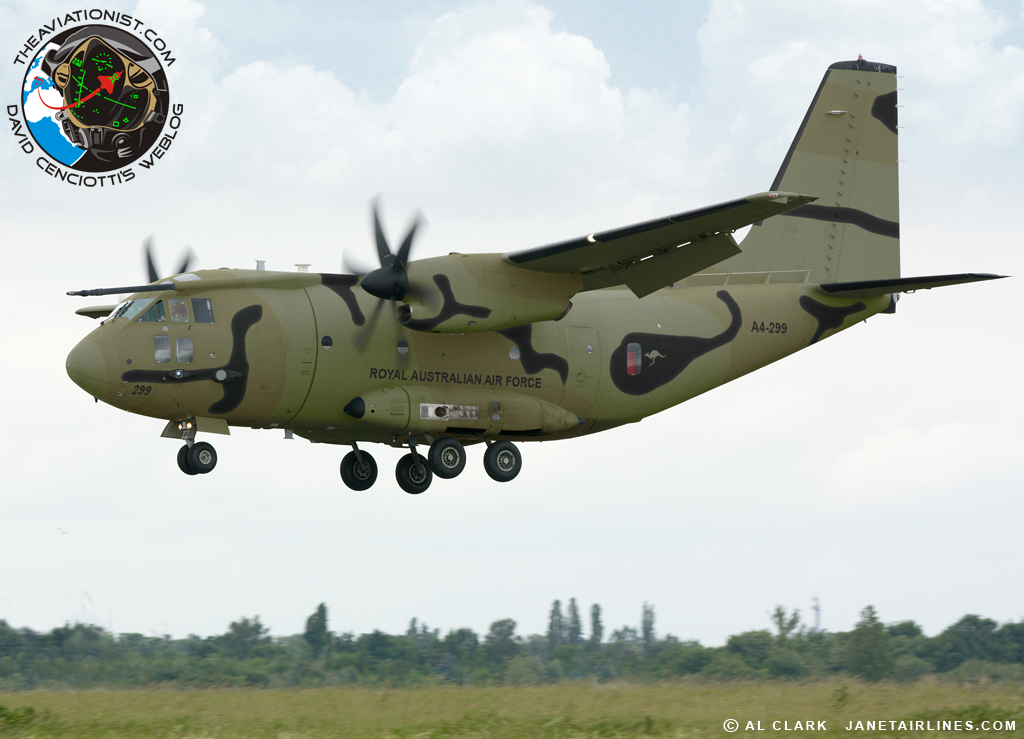 By more than 25 years now, the Royal Australian Air Force is looking for a Battlefield Airlifter (BFA) to replace its Vietnam-era piston engine workhorse: the DHC-4 Caribou retired on Nov. 27, 2009.
Eventually, on Dec. 21, 2011, the US Defense Security Cooperation Agency (DSCA) notified the U.S. Congress of a possible Foreign Military Sale to Australia of 10 C-27Js combat cargo, along with equipment, parts, training and logistical support for an estimated cost of 950 million USD.
The Spartans would replace 10 King Air gap fillers and help to retire 10 older C-130Hs.
Even if they would be delivered in some gray shades, thanks once again to an exclusive work by Al Clark, you can see in the images below how the C-27J could look like in the vintage color schemes of the Australian Caribous.
Standard camouflage:
"Desert Pink" trial color scheme:
Therefore, the RAAF could soon get 10 C-27J (plus 3 spare engines and support) from the U.S. via FMS program instead of buying them directly from Alenia in Italy.
However this deal is at risk.
In fact, with the recent Pentagon 2013 budget request, the U.S. will end the program with 21 aircraft (17 fewer than planned), and retire the entire fleet the next year. For this reason, the U.S. would like to resell Australia the aircraft originally sold to the United States, a move firmely opposed by Alenia Aermacchi, the Italian maker of the Spartan.
As reported by Defense News in an article published on Feb. 27, Alenia's CEO Giuseppe Giordo has already warned the U.S. government that the company would not be willing to support the C-27Js formerly sold to the U.S.
"We will support efforts to sell new C-27Js through the U.S. FMS program" Giordo said, "but would exercise our contractual rights not to the support the aircraft originally sold to the U.S."
This means no spare parts, no configuration control, no software support.
The problem is clear: after having the entire project cut from 145 planes to 38 (and the AgustaWestland sister company's presidential helicopter deal cancelled as well), the Italian company, that has many export opportunities with the C-27Js, doesn't want the U.S. government as a competitor on the international market.
However, such stance does risk to damage Alenia's relations with the Air Force, that will launch a new advanced jet trainer tender in three years.  A bid that could see the M-346 Master, that was recently selected by the Israeli Air Force, as one of the favorite contenders.
Pierpaolo Maglio contributed to this post. All images by Al Clark for The Aviationist.
Related articles