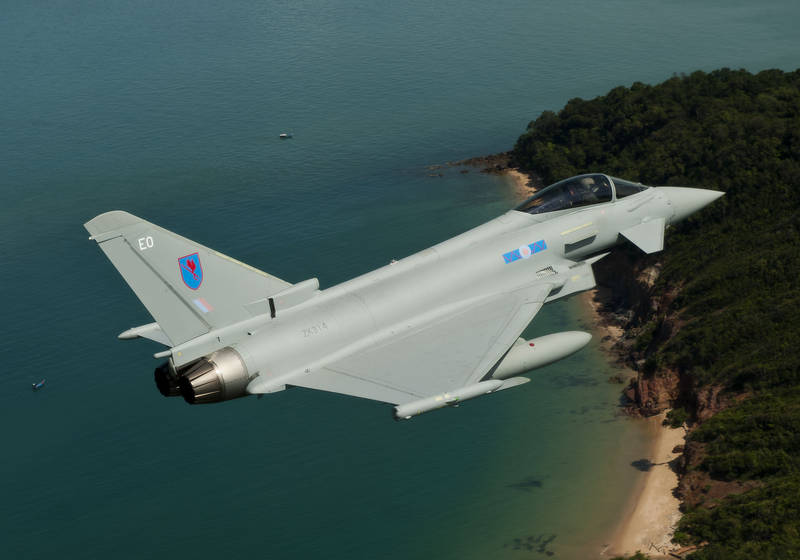 "I'd rather go to war in a Typhoon than in a F-18 Hornet". This alleged Australian exchange pilot's statement is one of the most interesting outcomes (and marketing slogans) of BERSAMA LIMA 11 an exercise marking the 40th Anniversary of the Five Powers Defence Agreement (FPDA) the only multilateral defence agreement in South East Asia with an operational element commitment undertaken by five nations (UK, Singapore, Malaysia, New Zealand, and Australia) to consult in the event of an attack on Singapore or Malaysia.
Image source: RAF/Crown Copyright
This year's edition of the exercise was attended by 18 ships, two submarines, 4000 troops and 68 aircraft: among them four RAF Typhoons (three single seat and one twin seat jets, both belonging to the Tranche 2) from RAF Leuchars that undertook a 4-day 7,000 mile trip to RMAF Butterworth (including stops in Jordan, Oman and Sri Lanka).
According to an email I've received today from a Eurofighter pilot, the overall performance of the plane was almost faultless and much better than anybody had anticipated in spite of the limited support and spare parts available:
"There were no significant problems with the aircraft apart from a small radar issue on one aircraft during the exercise. No issues were attributed to the extreme humidity and local environment, a significant improvement on performance during the Singapore campaign."
During Bersana Lima 11, the British Typhoons, that had their baptism of fire in the air-to-surface role during the Air War in Libya,  faced Malaysian Mig 29s, Australian F-18s (C and F) and Singaporean F16s using for the first time during an operational deployment, their electric hat (HMSS/HEA – Helmet Mounted Simbology System/Helmet Equipment Assembly the Typhoon JHMCS equivalent) and "easily came out on top in all engagements."
To such an extent that the Aussie pilot made the notable comment (don't forget the Royal Australian Air Force is an operator of both Legacy and Super Hornets….).
Image by Nicola Ruffino
Shortlisted in the Indian MMRCA (Medium Multi-Role Combat Aircraft) tender for 126 fighter planes for the Indian Air Force with the Dassault Rafale (the recent loser of the Switzerland selection for a fighter plane to replace the ageing F-5Es), with Ex. Bersana Lima 11 the Typhoon has undertaken another operative (and marketing) campaign to prove the aircraft expeditionary capabilities and its superior technology.