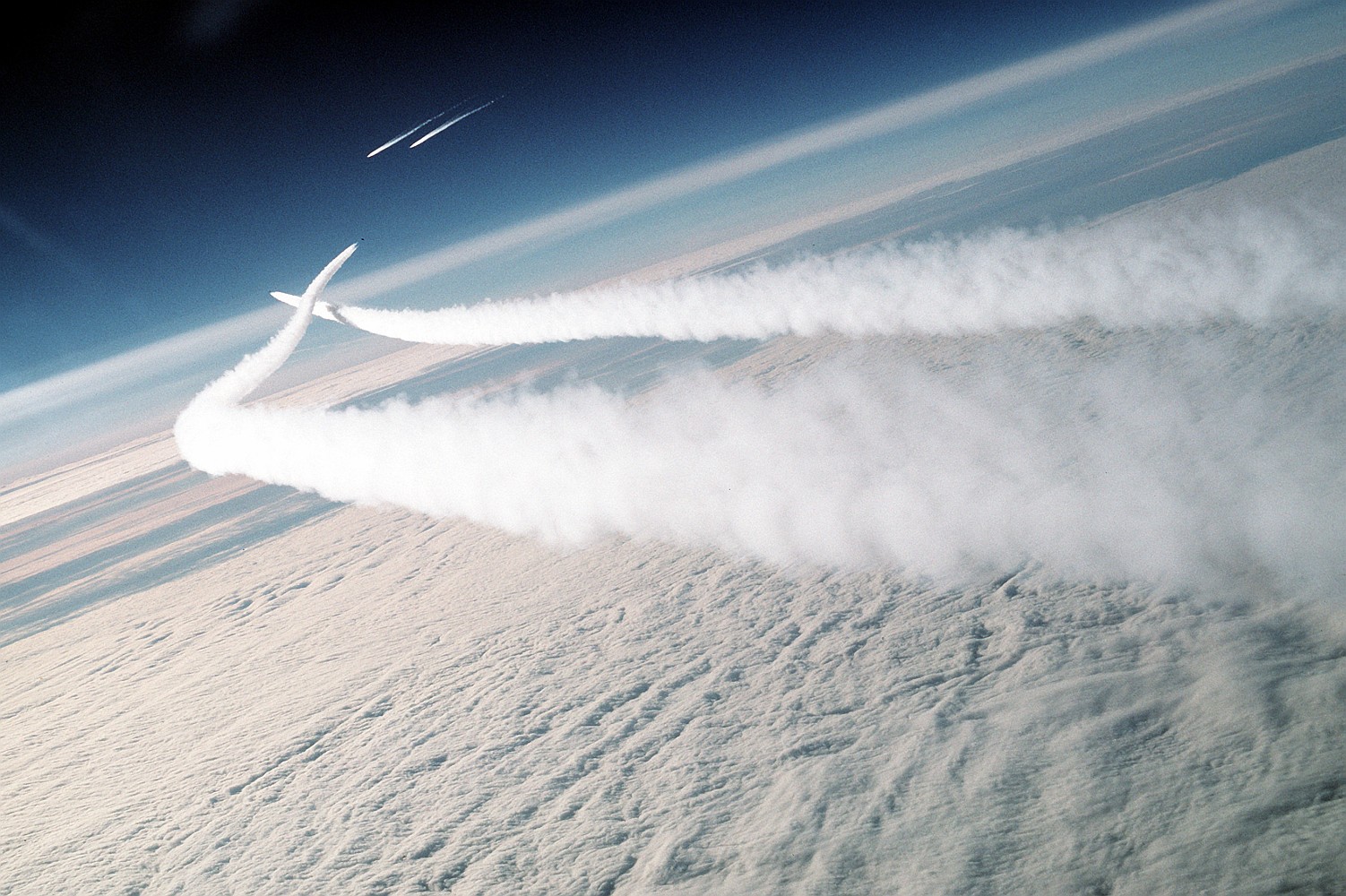 Although it has been already published on several websites, this image suggests some interesting analysis.
It was taken on Aug. 1, 1989, and shows two Soviet Mig-29 being intercepted by four (one is the camera ship, another one is not visible in this photograph) F-15s of the 21st Composite Fighter Wing, whosee 43rd and 54th Tactical Fighter Squadrons patrolled 580,000 square miles from the North Pole to the tip of the Aleutian Islands.
The planes' contrails give an idea of the maneuver used by the U.S. fighters to intercept the Mig-29s.
"What you can clearly see in the photograph is the wingman crossing the leader's flight path to obtain a WEZ [Weapon Engagement Zone]-in-depth position to be ready to use the missiles as soon as the leader achieves the VID [Visual IDentification]" explains Lt.Col. Salvatore "Cheero" Ferrara, an Italian Air Force pilot assigned to the JSF program at Washington DC, formerly flying as an interceptor pilot with both the F-104 and the F-16.
"Although I think the wingman's cross is a bit belated, the image shows a typical "deploy" maneuver of the U.S. fighters, in which the leader is "eyeball" and the wingman becomes "shooter". All the visual interception are conducted in this way, even though, with the current "sensor fusion", this kind of maneuver might change in the future" Ferrara says.
In simple words, the wingman, initially located on the "southern side" of the maneuver crosses the formation leader's flight path to emerge on the other side in a defensive-spread position. From there, the wingman can almost "look through" the leader's aircraft towards the target and continue the stern approach until it reach the Weapon Engagement Zone from which the air-to-air weapon can be fired.
Not in this case, though, since the U.S. fighters intercepted the Soviet Fulcrums on their way to Elmendorf AFB, in Alaska, where they refueled before continuing to Abbotsford, in Canada, for the International Airshow.