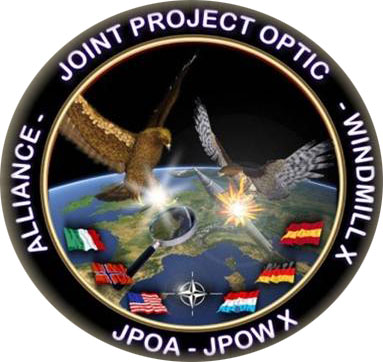 The Italian Armed Forces are currently attending the 10th edition of the Joint Project Optic Windmill (JPOW X) exercise, taking place from Sept 4 to 19 near the "De Peel" airbase, Venray, Holland. The JPOW is a multinational training event organised held every 2 years and based on simulated activities dealing with the Air Defense and Theatre Air and Missile Defence (TAMD).
The Exercise is part of the the training event foreseen by the Joint Project Optic Alliance (JPOA), wich deals with the exchange of information about balistic targets.
Italy, that it is to its first participation to the JPOW, has been attending with 43 military and with simulation models of some national assets: the AN/TPS77 radar of the Aeronautica Militare (Italian Air Force, ItAF), the SAMP/T missile system of the Esercito Italiano (Italian Army) and CMS/PAAMS systems on board the Andrea Doria ship of the Marina Militare (Italian Navy). The goal of the exercise is to verity the integrability and interoperability of the Command and Control systems, of the sensors and interceptors used in the Anti-Missile role by the various NATO countries. Furthermore, with a lot of military taking part to missions abroad within multi-national contingents, the JPOW is an important opportunity to test and validade a system's architecture that could be used to protect the troops operating in a non-permissive scenario against aerial threats (both aircraft and missiles), by integrating various allied assets.
Another NATO goal is the validation of the Target Architecture 1 (TA-1), an anti-balistic missile network composed by various systems provided by the allies. Such a goal is embedded in the ALTBMD (Active Layered Theatre Ballistic Missile Defense) programme, started in 2005 to develop a defense capability aimed to protect the troops from the threat of short and medium range balistic missiles.
The exercise takes place in a synthetic environment: all personnel works in a scenario in which both threats and performances of the various systems are simulated. Since the models used for the simulation are extremely advanced, the exercise guarantees a strict adherence to reality.