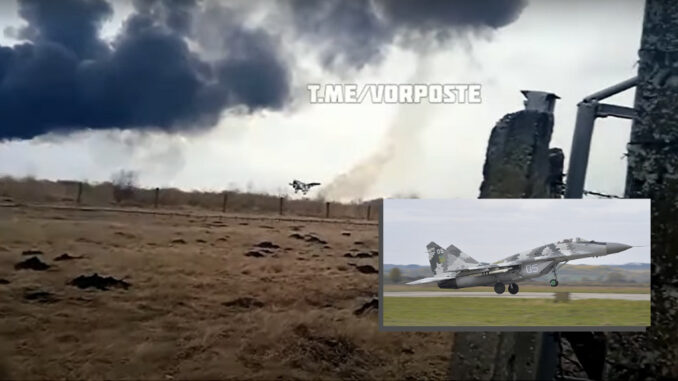 The video appears to be from the very first days of the Russian invasion.
A short video surfaced online just few days ago showing the Ukrainian countryside being shelled by Russian artillery, with dense smoke columns on the horizon. About halfway through the video, a MiG-29 appears taking off just seconds before the artillery struck the runway. Even if the video is not very high quality, the aircraft seems to be painted in the Ukrainian Air Force pixelated camouflage.
It was not possible to completely verify the video, but at a close look it appears to be authentic and not extracted from videogames like happened with some of the "Ghost of Kyiv" footage that emerged at the beginning of the Russian invasion. The exact date and location of the filming is unknown, however most sources seem to agree that it could have been recorded during the very first days of the Russian invasion because of the number of attacks on Ukrainian airfields in that timeframe and the vegetation shown in the video.
It is also possible that the Fulcrum was not operating by an airfield but from a road, as many Ukrainian aircraft were dispersed away from airfield to avoid destruction, and was scrambled to a new location as soon as artillery rounds begun hitting the area. This possibility is highly probable, as the Ukrainian Air Force often practiced the use of improvised, forward dispersed highway landing areas.
Also, the Fulcrum is designed with some features to allow this type of operations. In fact, many Russian-built aircraft, such the MiG-29, are equipped with a ventilated cover that lowers over their intakes at landing speeds to prevent the ingestion of foreign objects into the engine when operating from unimproved areas such as a highway or field.