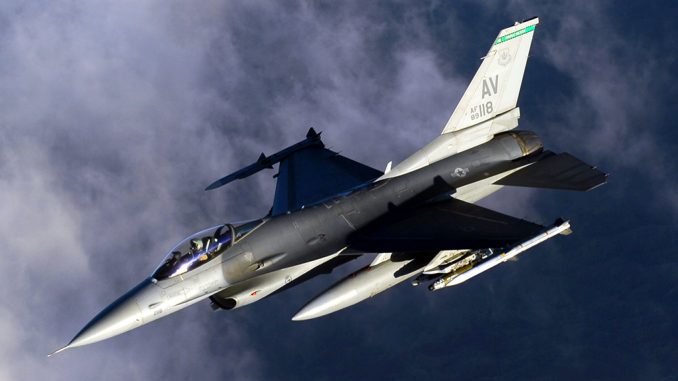 The jets of the 555th Fighter Squadron are based at Graf Ignatievo Air Base, Bulgaria, where they deployed for Thracian Viper 20.
Six "Vipers" of the 31st Fighter Wing, from Aviano Air Base, Italy, have started supporting NATO enhanced air policing in Bulgaria, on Sept. 28, 2020.
For the next four weeks, the F-16s will complement Bulgarian Air Force jets providing QRA (Quick Reaction Alert) duties in the Black Sea Region, where NATO mission was introduced following Russia's annexation of Crimea. Allied nations deployed fighter detachments to Bulgaria on NATO duty for the first time in September 2016, when American F-15 fighter jets joined the Bulgarian Air Force for a similar mission. From July to October 2017, Italian Eurofighters conducted the mission in Bulgaria.
According to the 31st FW press release, "Approximately 140 personnel and six F-16s from the 555th Fighter Squadron deployed in support of the Allied mission along with various units from Aviano Air Base, Italy, and Airmen assigned to the 435th Air Ground Operations Wing, Ramstein Air Base, Germany."
The 31st Fighter Wing deployed its 555th Fighter Squadron's F-16s to Graf Ignatievo Air Base to take part in Thracian Viper 20 exercise from Sept. 18 to 25. During the drills, that allowed the U.S. airmen to familiarize with the local procedures, the American Vipers conducted air-to-air training with Bulgarian MiG-29s and L-39s "to enhance their ability to rapidly deploy to remote locations and take command and control of the region."
"Thracian Viper is the Bulgarian flag-level exercise, where we integrated with our NATO partners, to include Romanian and Greek air forces," said U.S. Air Force Capt. Alexander Lodge, 555th Fighter Squadron pilot, in a public release.
With the deployment to Bulgaria, the 31st FW reaffirms its recent pivot to the Black Sea, where the unit (just like the B-52s of the Bomber Task Force 20-4) has carried out some interesting operations lately: on Jul. 22, 2020, the Aviano F-16s were involved in training scenarios using Joint Air-to-Surface Missile (JASSM) cruise missile tactics, while on Aug. 2, the 31st FW's F-16s, carrying live air-to-air ordnance, took part in an pretty unusual Sunday exercise focusing on realistic integration, operation and communication between surface and air assets to protect the maritime domain.
Two squadrons are currently part of the 31st FW: the 510th FS "Buzzards" and 555th "Triple Nickel" both flying the F-16CM-40. As a consequence of the planned reduction of military personnel currently stationed in Germany, the 480th Fighter Squadron "Warhawks", currently assigned to the 52nd Fighter Wing at Spangdahlem Air Base, will move its 28 F-16CM-50s to Aviano Air Base in the future.