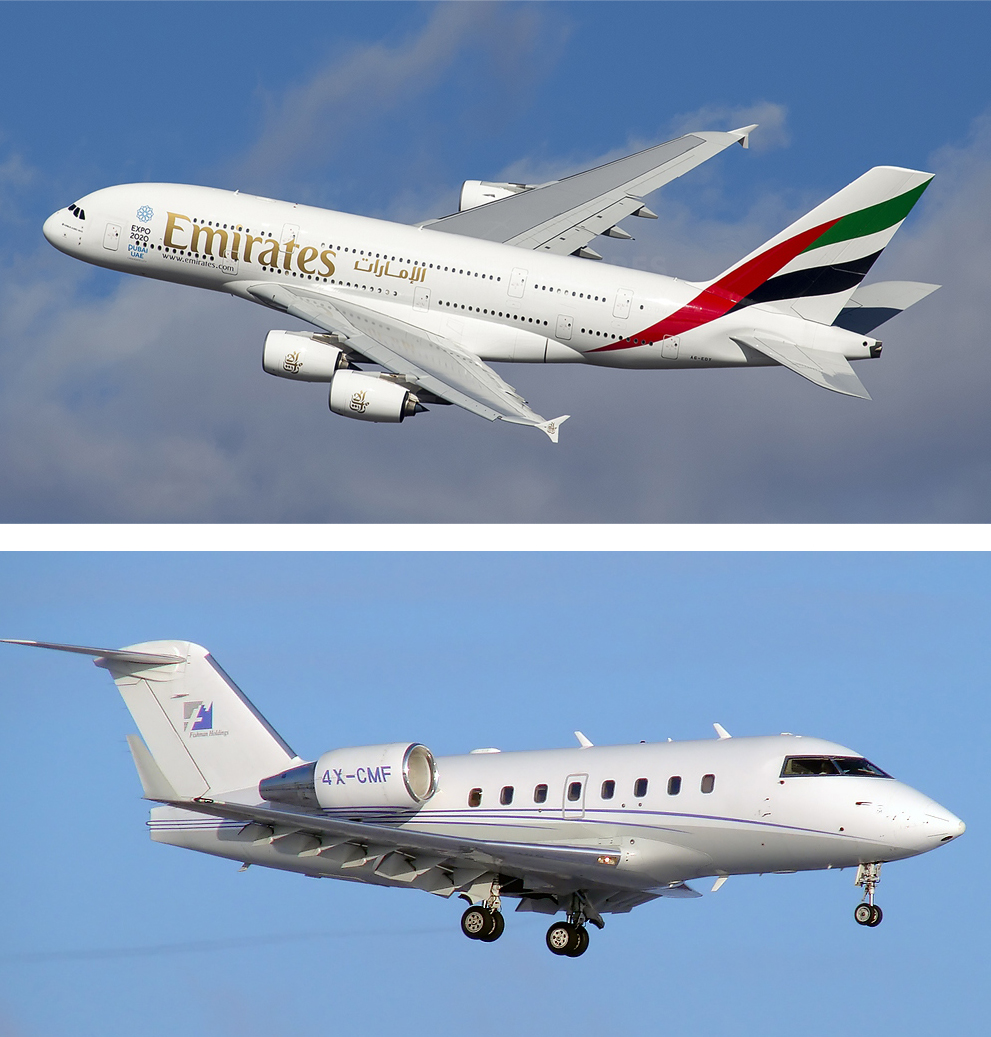 Wake turbulence flips Challenger jet upside down. Crew survives after emergency landing.
In a bizarre incident that occurred on Jan. 7, 2017 and has been made public last week, a Challenger 604 business jet flying at 35,000 ft over the Arabian Sea 630 nautical miles southeast of Muscat, Oman, was flipped upside down in midair and thrown violently out of control by a passing Airbus A380 super jumbo.
The midair wake-turbulence incident was so violent that both jet engines on the Challenger 604 business jet flamed-out and departed controlled flight, dropping 10,000 feet out of control and recovering at only 25,000 feet above the ocean. Several people onboard the Challenger 604 were injured in the incident, with one hospitalized according to a report on FlightServiceBureau.org.
Midair incidents due to wake turbulence, similar to this one, caused one of the most sensational and tragic accidents in military aviation on June 8, 1966 over Barstow, California near Edwards Air Force Base when the NASA F-104N Starfighter flown by test pilot Joe Walker collided with an Air Force XB-70 prototype. Wake vortices spinning off the XB-70's wingtip caused Walker's F-104N to roll, colliding with the right wingtip of the huge XB-70 and breaking apart. The incident contributed to the demise of the ambitious XB-70 program.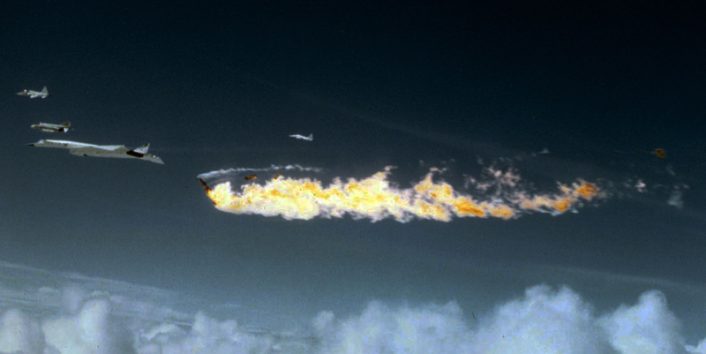 FlightServiceBureau.org is a credible and authoritative journal of aviation operations used by operators worldwide as a source of critical information for flight operations. Their dispatch on the incident is summarized here:
"An Emirates Airbus A380-800, most likely registration A6-EUL performing flight EK-412 from Dubai (United Arab Emirates) to Sydney,NS (Australia), was enroute at FL350 about 630nm southeast of Muscat (Oman) and about 820nm northwest of Male (Maldives) at about 08:40Z when a business jet passed underneath in opposite direction. The A380 continued the flight to Sydney without any apparent incident and landed safely.
The business jet, a MHS Aviation (Munich) Canadair Challenger 604 registration D-AMSC performing flight MHV-604 from Male (Maldives) to Abu Dhabi (United Arab Emirates) with 9 people on board, was enroute over the Arabian Sea when an Airbus A380-800 was observed by the crew passing 1000 feet above. After passing underneath the A380 at about 08:40Z the crew lost control of the aircraft as result of wake turbulence from the A380 and was able to regain control of the aircraft only after losing about 10,000 feet. The airframe experienced very high G-Loads during the upset, a number of occupants received injuries during the upset. After the crew managed to stabilize the aircraft the crew decided to divert to Muscat (Oman), entered Omani Airspace at 14:10L (10:10Z) declaring emergency and reporting injuries on board and continued for a landing in Muscat at 15:14L (11:14Z) without further incident. A number of occupants were taken to a hospital; one occupant was reported with serious injuries. The aircraft received damage beyond repair and was written off."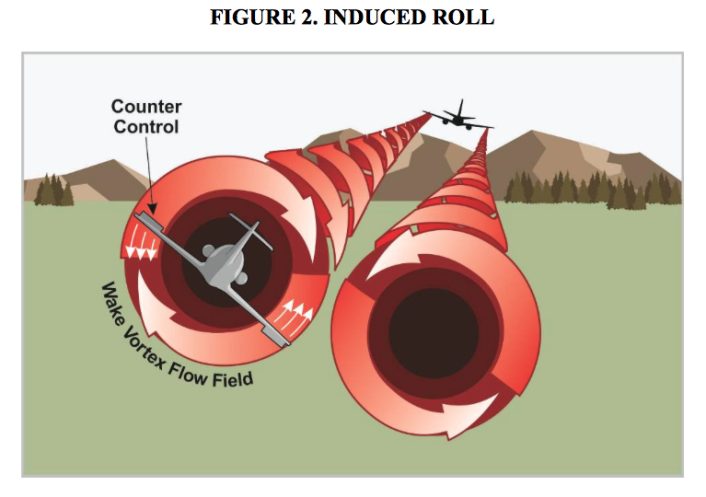 In addition to this incident being noteworthy because of its severity for a wake turbulence incident, it is also one of several being reported by controllers and flight crews around the world. Interestingly, at least six other similar incidents involving severe wake turbulence have recently been reported since 2009, all involving "wide bodies" such as the Airbus A380.
According to the Aviation Herald media outlet, as a result of these incidents air traffic controllers have been given updated and additional instructions for routing smaller aircraft in the vicinity of A380 flights in particular.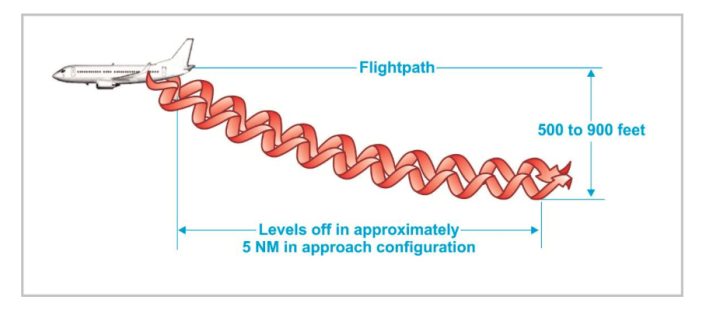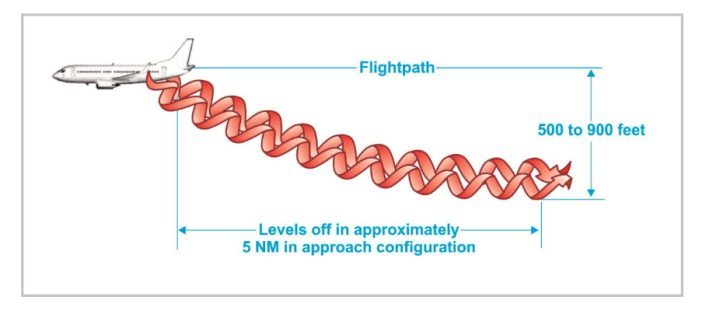 Related articles
Salva
Salva
Salva
Salva
Salva