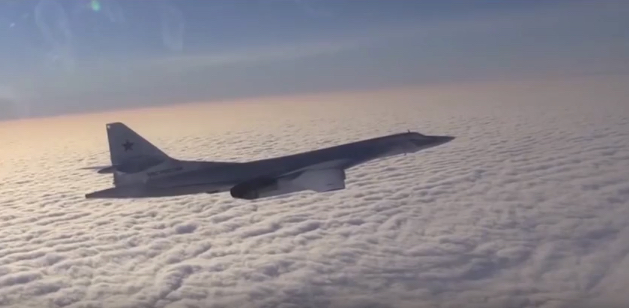 Russian Tu-16os launch Syrian air strike from Kola Peninsula, in far northwest Russia, in a global strike show.
During the night between Nov. 19 and 20, the Russian Air Force conducted a very long-range strike mission against IS targets in Syria: two Tu-160 Blackjack strategic bombers departed from Olenegorsk airbase, in the Kola Peninsula around 21.00z but, instead of taking the usual route through the Caspian Sea and Iran, went westbound, skirted the airspaces of Norway and the UK, flew over the Atlantic until Gibraltair, entered the Mediterranean sea and flew eastbound towards Syria and then eastbound along the usual corridor, back to Russia.
This video, released by Russia's MoD shows the Tu-160s (and Tu-95) being armed and launched for the night mission.
Interestingly, the Blackjacks launched their cruise missiles (most probably the new, stealthy KH-101s that they have been using since they launched the first air strike on ground targets in Syria) from the Mediterranean Sea for the very first time. Here's an image (there are more available on Twitter) of the Tu-160 flying over Syria, with an escorting Su-30SMs.
RuAF jet & strategic bomber spotted over #Idlib probably the one struck villages this morning with cruise missiles. pic.twitter.com/OBcPQcmM7m — Stork (@NorthernStork) 20 Novembre 2015
During the first part of their 13,000 km long journey, the Russian strategic bombers remained in international airspace and were intercepted and visually identified by some NATO QRA (Quick Reaction Alert) fighters scrambled to escort the Tu-160s. Among them, the RAF Typhoons from RAF Lossiemouth.
Related articles