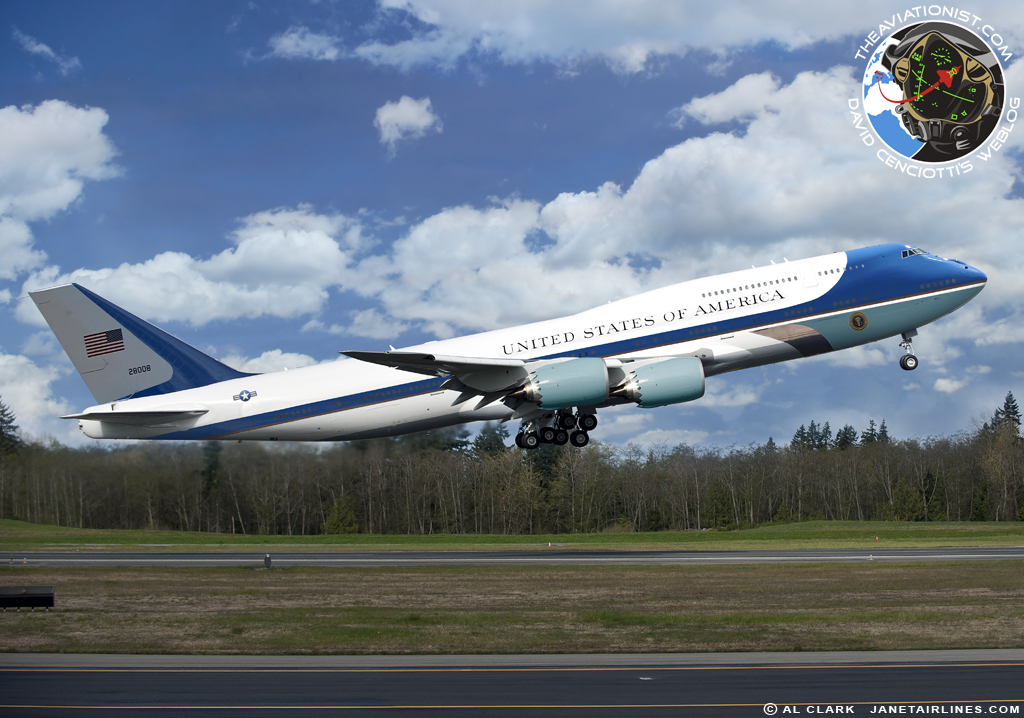 U.S. Air Force has identified the Boeing 747-8 platform for next Air Force One
A "fully missionized" platform based on the 747-8, the latest and largest version of the iconic Boeing 747 Jumbo Jet, will serve as the presidential aircraft, Secretary of the Air Force Deborah Lee James, announced on Jan. 28, 2015.
The Boeing 747-8 was selected following a market research and the assessment of the capabilities of the two four-engine aircraft that could meet the requirements: the Boeing 747-8 and the Airbus A380.
"This decision is not a contract award to procure 747-8 aircraft," said Col. Amy McCain, the Presidential Aircraft Recapitalization (PAR) program manager in a release on the U.S. Air Force website. "We still need to finalize the overall acquisition strategy and conduct risk-reduction activities with Boeing to inform the engineering and manufacturing development contract negotiations that will define the capabilities and cost."
A fleet of three Boeing 747-8 will replace the current, obsolete VC-25 aircraft. Once ready, in 2018, the new aircraft will be more capable and efficient than their predecessors, heavily modified Boeing 747-200 jets.
As already explained on The Aviationist, along with the internal design, meeting rooms and wide array of communication systems, what makes the Air Force One different is the self-protection suite. Much information on this topic is classified, still, the VC-25 aircraft is known to be fitted with active electronic counter measures, that are able to jam enemy radar frequencies as well as IRCM (Infrared Counter Measure) systems needed to divert heat seeking Infra Red missiles by disturbing their guidance systems.
The one in use on the AF1 is the AN/ALQ-204 Matador produced by the BAe Systems. Such system protect the plane from both IR air-to-air and ground-to-air (MANPADS – Man Portable Air Defense Systems) missiles.
The plane is also equipped with chaff and flares dispensers: the first type is used to divert radar-guided missiles, while the flares are high-temperature heat sources ejected from the aircraft's dispensers to mislead the missile's heat-seeking targeting system: since the burn temperature is hotter than that at the engine's exhaust the burning flares attract and deceive heat-seeking missiles fired at the aircraft.
Similar and surely more advanced countermeasures will equip the new ones.
When, about three years ago, the selection of the Boeing 747-8 became obvious, we asked our contributor Al Clark to prepare a digital mock-up of the new plane sporting the Air Force One's traditional light-blue and sky-blue color scheme that you can find on top of this article.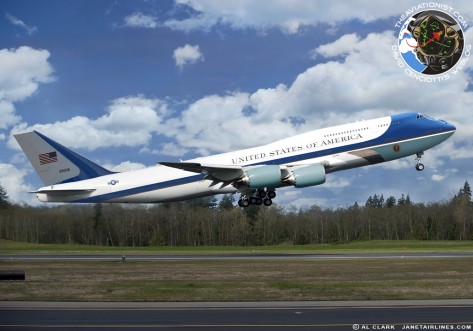 Digital mock-up by Al Clark