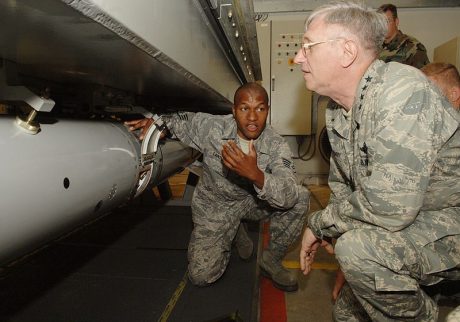 In a recently aired documentary on Dutch Military Aviation called "De tijd vliegt" former Dutch prime-minister Ruud Lubbers has more or less admitted that American nuclear weapons are stored at Volkel.
He claims to have been a part of covering up their existence in the RNLAF data systems during his conscript service though wether this would really be trusted to a conscript is a bit iffy. Funnily enough USAFE seems a lot less concerned with secrecy about the presence of B-61 nuclear weapons at Volkel because they released the following image to the public in 2008:
Image credit: USAFE/
Though this shows a training round in its vault, the description clearly mentions this as Volkel airbase in The Netherlands. It would seem only logical that where there are training rounds there will also be live rounds.
Noteworthy a far better image of a B-61 nuclear bomb appeared on a Facebook page. It was posted by a relative of  a Munitions Maintenance Squadron service member. Although it was an official image posted on the public domain, it was removed few hours later (maybe as it showed all the unit's personnel next to the bomb).
Here below is a crop of that image.
If Mr. Lubbers's remarks are correctly interpreted there are about 22 "devices of a nuclear nature" at Volkel Airbase.
This is Mr. Lubbers his first faux-pas in recent times, he also spoke openly about his consults with the Dutch former queen, now princess, Beatrix which is not strictly illegal but not done either.
Following Mr. Lubbers's "outing" questions were raised wether his remarks were illegal.
Dutch member of parliament Sjoerd Sjoerdsma of the Democrats '66 party asked formal questions of the prime minister wether the remarks made by Mr. Lubbers were true.
Minister of defence Ms. Jeanine Hennis denied to comment on wether they were true saying that it is government policy to discuss wether or not nuclear weapons are present in The Netherlands. Minister of Internal Affairs Mr. Timmermans will be sending a letter to parliament next week clarifying Dutch policies on nuclear weapons.
Then, another former prime-minister, Mr. Dries van Agt, also openly admitted that there are nuclear weapons at Volkel. He told reporters wednesday: "They are still there and it is ridiculious that they are still there." Both men are members of the same Christian Democratic party called the CDA.
He acknowledges that the presence of these weapons is a state secret but he claimed that by now it has become a public secret.
The fact that both these gentlemen openly discuss this issue that for long has been shrouded in secrecy almost feels like there is a larger political drive about to happen to remove these weapons. Like so often in these situations first the former politicians, who have nothing to lose, make the issue discussable after which the active politicians finish the job, so to speak.
Written with Lieuwe de Vries
Related articles