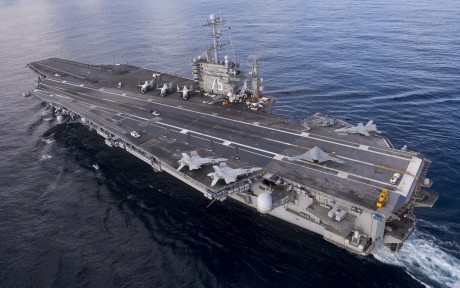 The X-47B Unmanned Combat Air Systems (UCAS) demonstrator is currently conducting trials on the on the flight deck of the aircraft carrier USS Harry S. Truman (CVN 75) at sea.
Involved in Carrier Qualification, the Truman supercarrier is the first flattop to host test operations for an unmanned aircraft.
Ship-board testing started on Dec. 9. On the flight deck the X-47B (that on Nov.29, successfully completed its first land-based catapult launch from Naval Air Station Patuxent River) is controlled using an arm-mounted control display unit (CDU).
The new gadget is a special remote control for moving the X-47B on flight decks which attaches to the wrist, waist and one hand. Through the device, deck operators ahve access to a display and  can control the aircraft's throttle, tailhook, steering, brakes and perform several other functions associated with maneuvring an aircraft on deck.
Image credit: U.S. Navy
Related articles