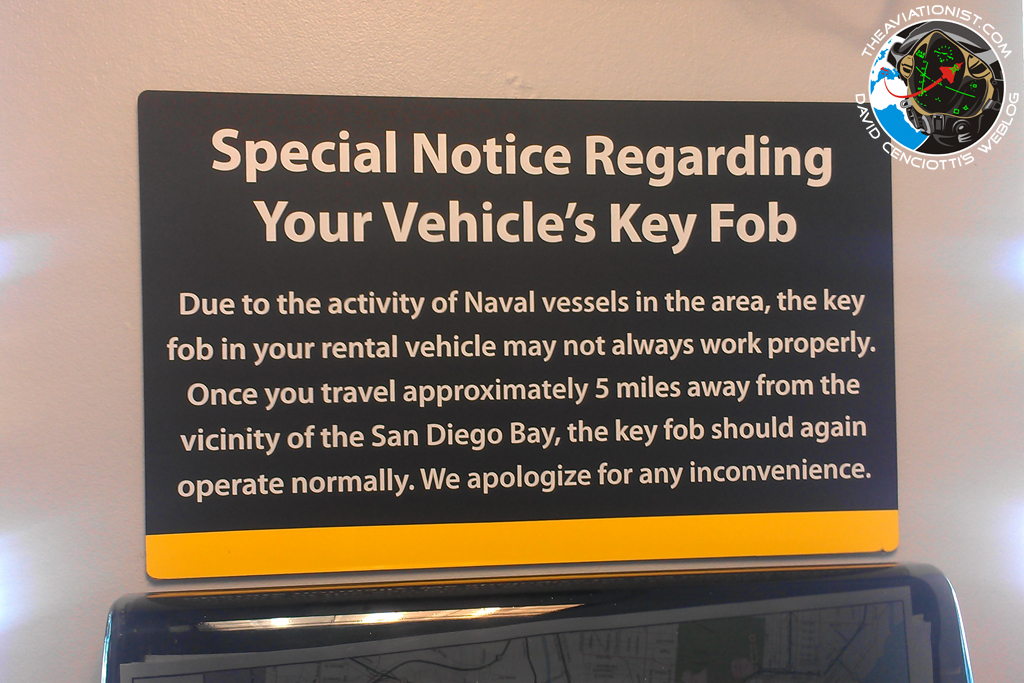 Taken at the Hertz Rental counter at San Diego International Airport, the below photograph shows a sign used to warn people of the possible interferences to vehicles key fobs caused by naval vessels activity in the Bay area.
"Once you travel approximately 5 miles away from the vicinity of the San Diego Bay, the key fob should again operate normally."
Although the sign does not give further details about the type of activity the U.S. Navy is conducting in Southern California, it may be linked to the Enhanced Position Location Reporting System (EPLRS) a secure, jam resistant, network of wireless tactical radios (first fielded by the Army in 1987) that distributes digital data and position location and reporting, between many mobile users.
In fact, the EPLRS/SADL (Situation Awareness Data Link – used by combat planes to interface with EPLRS for ground force support mission) uses a 3 Mhz wide pulse, right in the 433 band where European and Asian cars remote operate.
Identified as the source of interferences with garage door openers is instead a new radio system, known as Enterprise Land Mobile Radio, that is being used at most U.S. military installation reportedly to connect military servicemen and civilian first responders.
The problem has been reported around several stateside military installations, in fact some devices (including garage openers) work legally at the same frequencies used by the ELMR, although they are not licensed to do so.
Hence, , don't worry if your car or garage door don't work. It may be a mere problem of radio frequency jamming by a Navy or military network near you.
Image credit: "Dave"