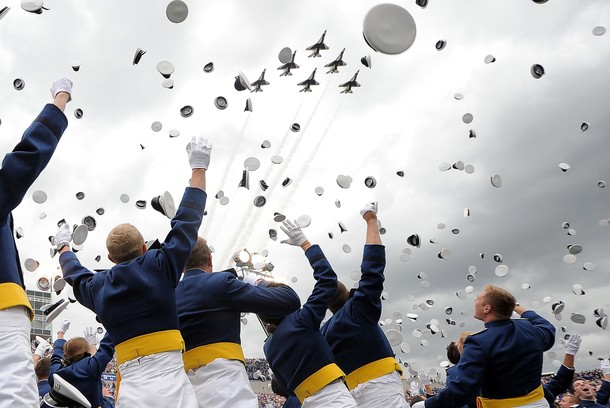 On May 23, 2012,  Falcon Stadium in Colorado Springs, Colorado, hosted the graduation ceremony of the U.S. Air Force Academy class of 2012.
The event had a certain media coverage because, 8 months since the repeal of the famous "don't ask, don't tell" policy, the U.S. Air Force Academy graduated its first group of openly gay cadets.

The repeal of DADT only took effect last September, meaning that for the first time any class 2012 cadet could have come out while enrolled in the academy without fear of discharge.
Anyway, everything went smoothly and the following interesting images depict two different phases of the ceremony.
The first one depicts the class 2012 throwing their hats in the air at the end of the ceremony as the F-16s of the Thunderbirds U.S. Air Force aerial demonstration team fly overhead.
Image credit: Jewel Samad/AFP/GettyImages
U.S. President Barack Obama delivered the commencement address for this year's graduation ceremony but, when I first saw the image below, I thought it was a fake.
However, it is genuine. It simply shows a seeminlgy proud and happy Barack Obama (hence his weird expression) as he receives a painting of Air Force One from the cadets of USAF class of 2012
Image credit: Jewel Samad/AFP/GettyImages