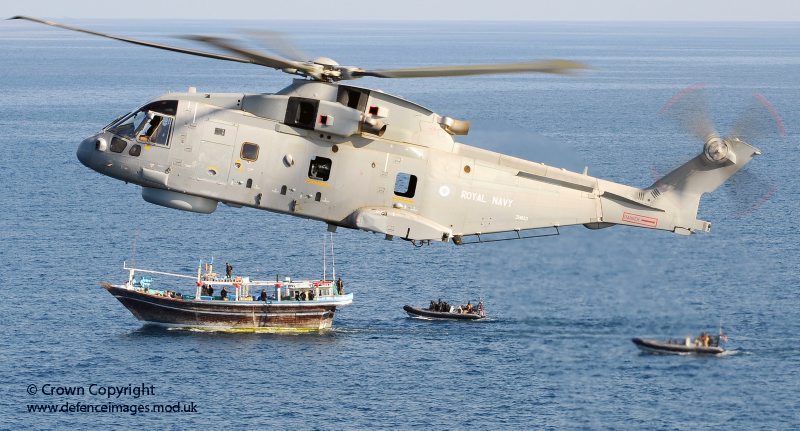 The Daily Telegraph newspaper has run a report stating that at dawn on Tuesday May 15 several European helicopters flew along the Somalian coast line to attack and destroy numerous pirate skiffs that were dragged above the high tide line.
According to the article troops were not landed from the anti-piracy helicopters indicating that they attack was conducted using the on board machine guns. Most probably, the presence of the small boats on the beach within reach of helicopter gun fire was revealed by drones circling high above the area from several days.
In February, after some 400 attacks and 100 hijackings in three years on international shipping, UK's Prime Minister David Cameron was believed to be about to send one of two helicopter carriers loaded with Apache and Lynx attack helicopters, along with Royal Marines, to take out the Pirate camps once and for all.
Some six weeks ago the European Union passed a ruling that disruptive attacks on the Somalian pirates was to be permitted and this could be the first in numerous attacks on the pirate problem in the area.
The Telegraph article stated that troops from several European countries took part in the morning raid as confirmed by official sources, the Navies from France, Germany, Italy, Spain, Netherlands and Portugal all have warships off the coast of Somalia.
No Europeans were hurt during the raid and it would seems no pirates were hurt either: this just looks a case of attacking the tools of the trade for the pirates denying them the ability to put to sea to carry out their crimes against commercial shipping.
Even the U.S. Navy has a strong presence in the area: helicopters from ships within the 5th Fleet AOR (Area Of Operations) are constantly involved in anti-piracy operations in the Indian Ocean and Horn of Africa.
Written with David Cenciotti
Image credit: Navy