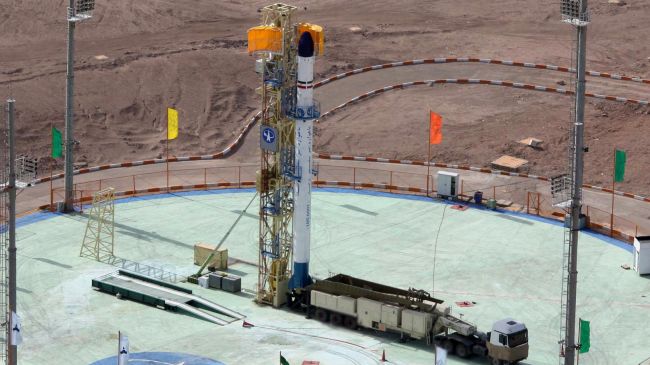 Sea, Air and Space: Iran is quite active these days.
Local media have been reporting that Tehran has launched a new satellite on Feb. 5, to celebrate the 33rd anniversary of the 1979 Islamic Revolution in the country.
According to PressTV the new satellite called Navid-e Elm-o Sanat was launched using a Safir satellite carrier. Its purpose is weather observation and data collection through high resolution photos. PressTV also reported that Iranian Defense Minister Brigadier General Ahmad Vahidi had said on Jan. 16 that Iran planned to launch a new Satellite during the 10-day Dawn celebrations and kick off some other military projects. News of those "other" projects has not been reported as yet.
The FARS news agency gave a few more details about the satellite: it weighs 50kg, suggesting it's not that large, and was launched with a 55 degree orbital angle. This is not Iran's first satellite launch (first one took place in 2009) but does suggest an ambitious space program that is making advances despite UN sanctions. In 2010 Iran has launched animals into space:  a rat, some turtles and some worms aboard a capsule carried aloft by the Kavoshgar-3 rocket, another indigenous design. Iran has plans to put a manned flight into space in the 2019 time frame; time will tell if this indeed takes place.
Surely, Iran is very eager to join the manned space race; whether it achieves that, is another story. For the moment, its activity is limited to satellites whose purposes could be much more than weather observation. Articles seem to suggest that the high-resolution photos will not be confined to the Persian Gulf area and Iran specifically but will include other areas of the globe. Which does pose the question: which bits of the globe does the weather interest Iran? The U.S. or Israel?
You never know but it would be very interesting to find out.
Richard Clements for TheAviationist.com
Image credit: PressTV