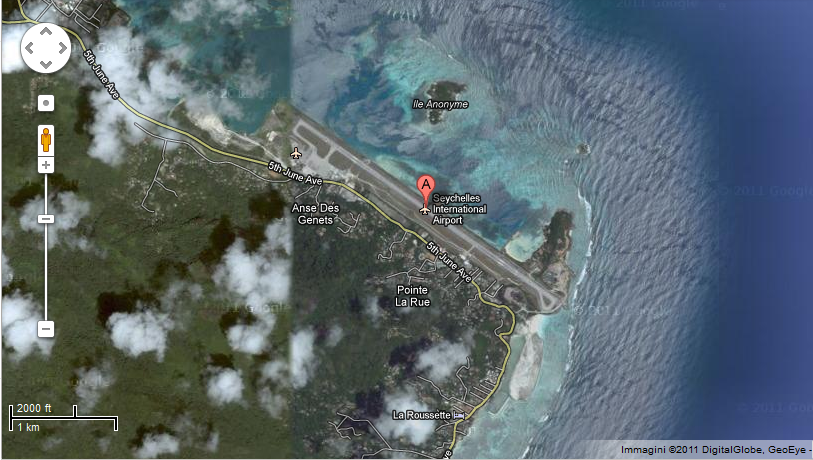 News agencies are reporting that a U.S. MQ-9 Reaper crashed today at the Seychelles International Airport in Mahe. The cause of the crash is unknown and under investigation but the Reaper (also known as Predator B) was unarmed and no injuries were reported.
Seychelles International Airport as seen with Google Maps
The one in the Seychelles is one of the Reaper detachments, a Forward Operating Bases (FOBs) since 2009 from where reconnaissance missions are launched under  U.S. Africa Command (AFRICOM) for anti-piracy purposes even if someone speculates that Mahe is a launch-pad for American robots chasing terrorists in the Horn of Africa.
Indeed if their primary mission is ISR (Intelligence Surveillance Reconnaissance) recently leaked documents revealed that U.S. drones based in Mahe have conducted counter-terrorism missions over Somalia, some 800 miles to the northwest of the Seychelles.
However, according to the official statements of the Seychelles Minister for Foreign Affairs in the Seychelles the agreement with the U.S is based on two aircraft being stationed at Mahe and flying unarmed missions.
Image source: US Africa Command via Flightglobal The Dew Line

Anyway, considered all the criticism that has been surrounding the drones attacks in Pakistan and the recent mysterious capture of a stealthy RQ-170 Sentinel (the "Beast of Kandahar") flying a surveillance mission in Iran, one may say it is not a very good period for America's robot war…