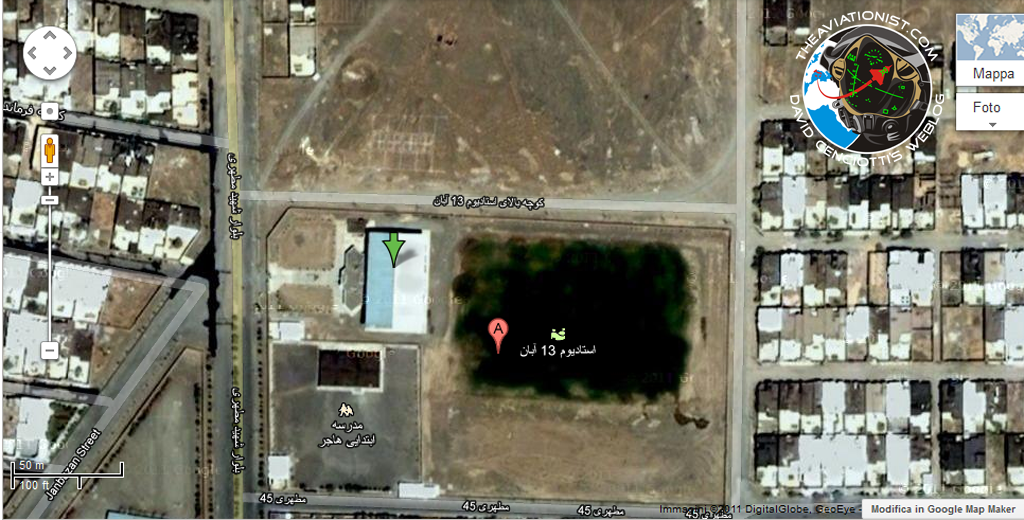 According to "CalebS" a very well informed source of this website who has already provided valuable advice to study the high resolution pictures released yesterday by the Iranian Republic Guard, the one marked with the green arrow in the Google Maps screenshot below is (or at least could be) the location where the captured RQ-170 was (and maybe still is) hidden.
It should be a building next to school, a countermeasure used to avoid an air strike aimed at destroying the (once) secret stealthy robot.
Since I can't be sure it is the actual place where the "Beast of Kandahar" was photographed (so "speculation on!"), I have to trust what CalebS says. I have asked him to explain how I can be sure the building located at 35.270443,57.971007 is the right place based on a purely qualitative analysis because the only thing I can assess by looking at that building is that it is next to a school and located outside the town where the drone was supposedly lost.
Here's what CalebS explained:
"It has the same construction characteristics that I would expect from seeing the photos of the inside. Plus take the angle of the sun in the photo and it looks like the building is facing the correct direction. Then look at the shadow of the building and it appears to be tall enough. Then see where the side door entrance is and that could be a path… Next look at the size of the building, seems to be the exact same size when measured using google maps satellite images."
The description was not intended to prove anything. Since the source could not provide any photo or any other evidence that the school was the right place, he gave me some details that could help me in the verification process.
What's your opinion?
Stay tuned.
This, along with all the previous articles on the Sentinel drone in Iran, can be found at the following link: https://theaviationist.com/category/captured-stealth-drone/