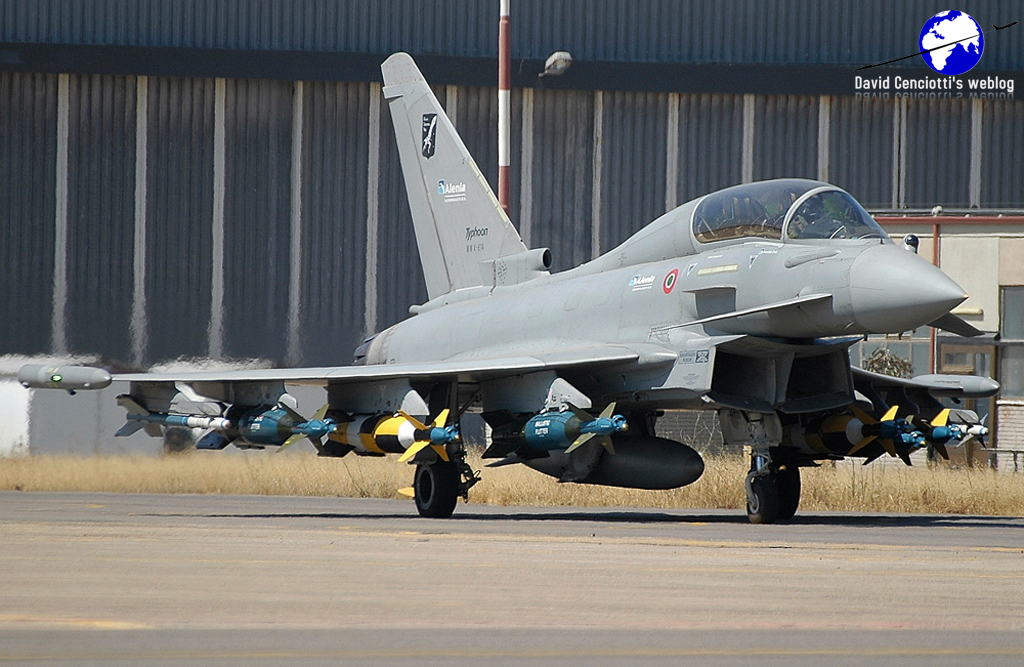 When the following pictures (courtesy of zetamimmo) appeared on the Italian Vipers forum someone thought that, finally, the Aeronautica Militare (Italian Air Force, ItAF), had begun thinking to the Eurofighter Typhoon as a multi-role aircraft, something contrasting the previous vision, according to which, the F-2000 should be only used as an air superiority fighter.
However, the pictures, taken at Decimomannu airbase in February, depicts a TF-2000A that, although wearing the Reparto Sperimentale Volo (RSV – Test Unit Wing of the ItAF), it's currently flown by both Alenia Aeronautica and RSV to conduct testing activities. For example, during my visit to Decimomannu for the F-15E deployment the aircraft serialled MM X-614/IPA 2 was involved in supersonic runs (see pictures at the end of this article), while it carried GBUs to test the aircraft's autopilot during flights in heavy configurations.
The last part of my article titled "Italian Typhoon", published in the April 2010 issue of Air Forces Monthly ended with the following words, which explain the past (and current!) vision of the Italian Air Force about the role of the F-2000:
Under Tranche 3A, by 2013, Italy will receive 21 Typhoons bringing the total to 95 (comprising 27 Trance 1 and 47 Tranche 2 examples). The aircraft will be used in the air superiority role, as Italy, due to the cost associated with the envisaged upgrades required by the integration of the air-to-ground weapons, has always been skeptical about a multi-role Eurofighter. At the end of 2008, answering some questions about the JSF (Joint Strike Fighter), Gen. Vincenzo Camporini, former ItAF Chief of Staff, current Defence Chief of Staff, affirmed that: "There's no competition or conflict between the JSF and the Eurofighter. The Eurofighter was designed for the Air Defence, a role that the aircraft is perfectly able to fulfil, but it can't perform the attack role in an economically sustainable manner". That vision hasn't changed with the Tranche 3 contract signed in July 2009. In a recent interview, Gen. Giuseppe Bernardis, Air Force Deputy Chief of Staff, said that Italy did not completely rule out the use of Eurofighters for air-to-ground missions, since both T2 and T3 aircraft will have the ability to carry Paveway and JDAM (Joint Direct Attack Munition) that are already used by the Tornado and the AMX, and will be carried in the future by the F-35s (that Italy plans to acquire in 109 examples: 69 conventional take-off and landing F-35As and 40 short take-off and vertical landing F-35Bs). Hence, the air-to-ground mission is viewed as secondary for the Typhoon; provided their ability to use the ordnance in inventory for other aircraft, the Eurofighter will be possibly be used as "back up" attack platforms until 2040.