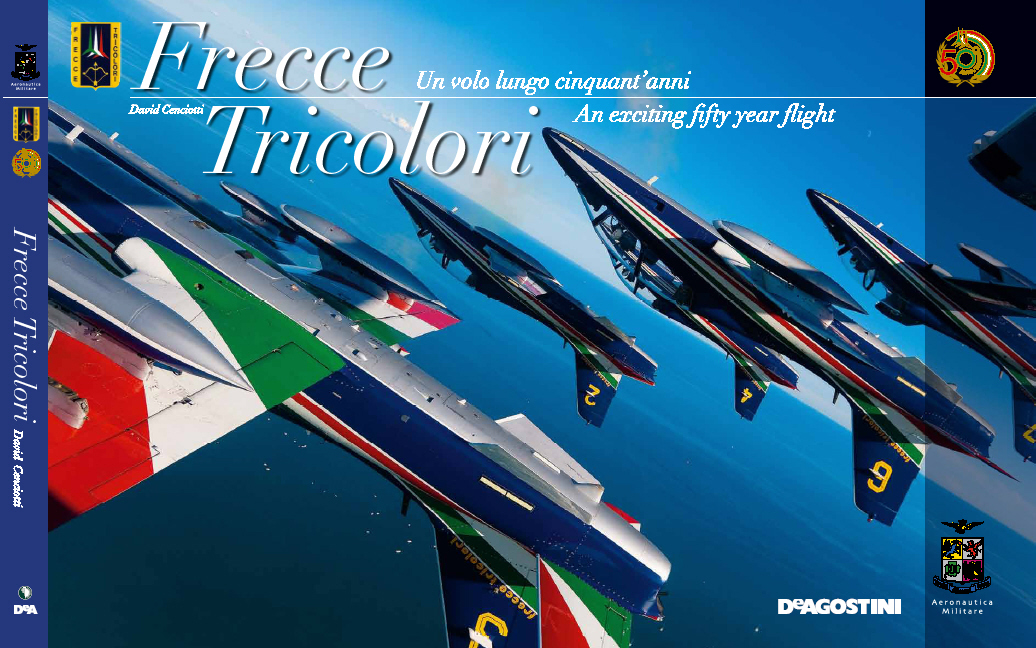 Published in September 2010, by the DeAgostini (one of the most important Italian publishing houses) with the contribution of Aviator Edizioni, my latest book, "Frecce Tricolori – un volo lungo 50 anni" represents the official publication of the Italian Air Force for the 50th Anniversary of the Frecce Tricolori. The book in Italian and English text is a spectacular hardcovered photographic album of 128 pages, measuring 44×30 cm, containing +220 images, that celebrates the fifty operational seasons of the Pattuglia Acrobatica Nazionale (Italian Aerobatic Display Team). Symbol of Italy's and Aeronautica Militare's eccellent technical and professional capabilities, the Frecce Tricolori are recognized all around the world as one of the best aerobatic display teams, the only one to fly with 10 aircraft. Heir of a long tradition in collective aerobatics that had in the pilots of the 1° Stormo Caccia of Campoformido its first expression, the Pattuglia Acrobatica Nazionale flies a highly technical flying programme that has been attracting thousands spectators in Italy and abroad for half a century. The book analyses the role of the Pattuglia Acrobatica Nazionale (Italian Aerobatic Team) within the Aeronautica Militare (Italian Air Force) and describing its organisation, its special characteristics, and its history. The various chapters of the volume unveil all the "secrets" of the Frecce Tricolori, from the aircraft flown to the flying programme, from the roles to the pilots' equipment, with information capable of satisfying even the most discriminating taste and images taken by the PAN, by the Troupe Azzurra of the ItAF, by the Author and by the famous photographer Katsuhiko Tokunaga.
"Frecce Tricolori – un volo lungo cinquant'anni"
Author:  David Cenciotti
ISBN number: 9788851115173
The cover price of the book is € 39,50.
You can buy your copy of the book along with a postcard signed by the Author by: