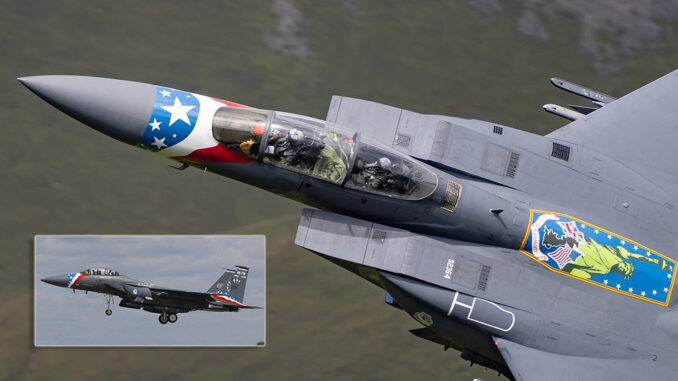 Here are some interesting shots of the new Heritage F-15E Strike Eagle.
The U.S. Air Force 48th Fighter Wing just unveiled a new heritage F-15E Strike Eagle to celebrate the Wing's 70th year of flight operations, as well as the USAFE's 80th anniversary and the Air Force's 75th anniversary. The jet was officially unveiled at RAF Lakenheath on July 12, 2022, and on July 14 flew through the famous Mach Loop in the Low Flying Area (LFA) 7, before landing at RAF Fairford for this year's Royal International Air Tattoo.
"We have painted an F-15E with a special paint scheme to celebrate the rich history of Liberty Pilots, Maintainers, and all Airmen of the 48 FW", said the 48th FW on social medias. "Additionally, the paint scheme is based on the Skyblazers aerial demonstration team from the 1950's  and 60's, honoring a piece of USAFE's 80-year history."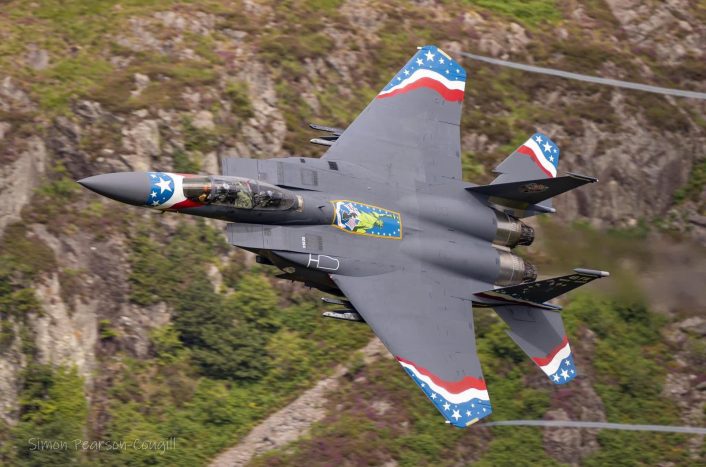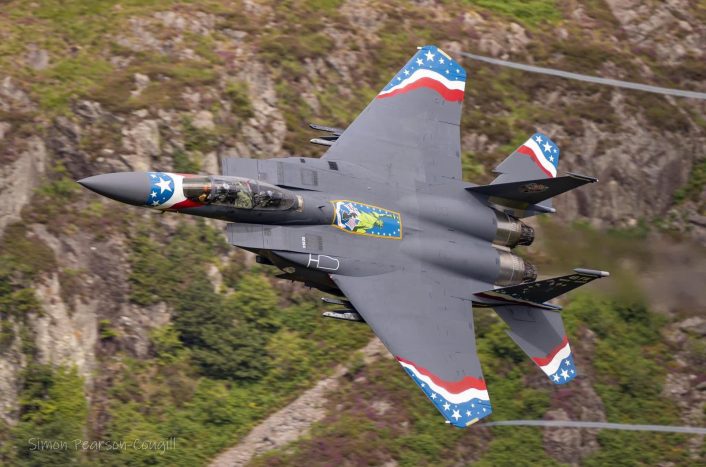 The aircraft in question is the F-15E with serial number 92-0364, assigned to the 492nd Fighter Squadron (492nd FS), nicknamed "the Bolars" and "the Madhatters". The Strike Eagle landed at Fairford at around midday, with the callsign STRIKE31 and escorted by a F-35A of the 495th Fighter Squadron "the Valkyries", after a quick air to air photographic session.
As you can see in the photos here in this story, the F-15E has been painted with the US flag's colors on the nose and the flight surfaces. The inner sides of the twin tails show the logo for the USAFE's 80th anniversary, while the outer sides show the logo for the 48th FW anniversary. In particular, you can see the Statue of Liberty, which is the symbol of the unit and therefore known also as the "Liberty Wing", surrounded by the shapes of the aircraft that served within the unit.
A bigger reproduction of the Statue of Liberty is found also on the speed brake, accompanied by the shape of the United Kingdom, which hosts the unit since the 1960s, as well as the US and UK flags. In fact, the 48th FW was first created in 1952 at Chaumont-Semoutiers Air Base, France, and assigned the 492d, 493d, and 494th Fighter Squadrons. Only in 1960, when French President Charles de Gaulle demanded the removal of NATO forces from the country, the unit moved to RAF Lakenheath, which at the time was an empty Strategic Air Command heavy bomber base.
Now, as the Liberty Wing is transitioning into the future, the F-15Cs have been swapped for brand new F-35As and assigned both to the 493rd FS "Grim Reapers" and the recently reactivated 495th FS "Valkyries". The unit is not new to these kind of heritage jets, with some great examples seen for the 75th anniversary of Operation Overlord, when each squadron painted a jet in heritage colors for the occasion.