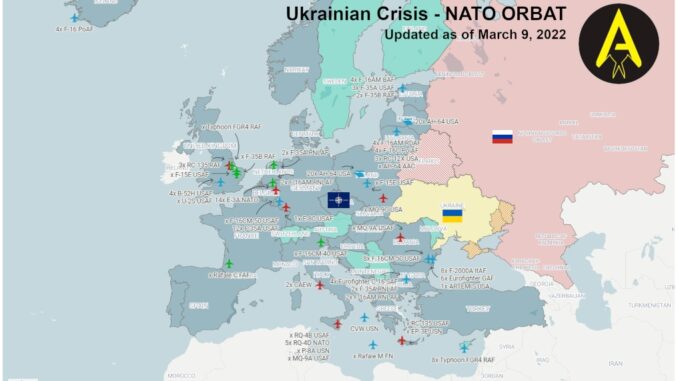 Two weeks after the invasion of Ukraine, NATO and its partners continue standing alert to protect Europe's Eastern flank.
Two weeks after the beginning of the Russian invasion in Ukraine, NATO and partner nations assets are still moving around Europe, continuously relocating to bases on the eastern flank. All forces are in a heightened state of alert as the fight for Kyiv goes on, with the Russians trying to push towards the capital and the Ukrainians resisting as best as they can, while both sides are suffering heavy losses.
As we reported during the first days of the invasion, we noticed a quick shifting of the flight operations from Ukraine and Crimea to the neighboring countries, especially over Poland, Bulgaria and Romania, as well as a drastic increase in the ops tempo, with tanker and Intelligence, Surveillance and Reconnaissance tracks visible throughout the day.
The tankers are supporting not only the ISR aircraft, but also multiple fighter formations conducting combat air patrols. Many fighter aircraft have been forward deployed to countries in Central and Eastern Europe, guarding the borders with Ukraine, Belarus and Russia. However, many others are flying their missions from their home bases.
As happened since the first day, some of the fighter jets can be observed as they fly to their assigned patrol area (like RAF Typhoons and USAFE F-16s departed from their home bases), but many others are not transmitting ADS-B and Mode S data. An estimate of the magnitude of the operations might come again from the number of tankers on station at any time, with at least 5-6 flying at any time and replacements arriving on station as other tankers leave to return to base.
In light of the recent developments, we decided to update once again our map showing all the aircraft involved in the daily operations in response to the crisis. We decided to include in this Ukrainian crisis NATO ORBAT (Order of Battle) both ISR (Intelligence, Surveillance and Reconnaissance) and fighter/bomber assets, as ISR are currently doing the heavy work and keeping an eye on Russian forces around Ukraine all day long. Let's see which are all the aircraft involved (except resident nations forces), without forgetting all the information you can find here are based on OSINT (Open Source Intelligence), meaning that they were published or disclosed by the involved parties.
As we already reported, the Italian Air Force deployed four additional Eurofighters to Mihail Kogalniceanu Air Base, Romania, to support the enhanced Air Policing Area South (eAPA-S) as part of Task Force Black Storm. The Romanian air base now hosts eight Italian F-2000s and six German Eurofighters, which were deployed in accordance with NATO's "Plug & Fight" concept.
Nell'ambito del rafforzamento della postura di deterrenza dell'Alleanza, da lunedì verrà raddoppiato l'impegno di @ItalianAirForce in #Romania. Ulteriori 4 #Eurofighter alla Task Force Air Black Storm per attività #airpolicing a difesa spazio aereo #NATO https://t.co/Mixhpljm9K pic.twitter.com/bwbtZg7IQ2

— Ministero Difesa (@MinisteroDifesa) February 26, 2022
Interestingly, both the Italian and the German detachment are fully integrated in the QRA mission, that is carried out jointly with mixed aircraft, personnel and pilots belonging to both Air Forces. To that respect it's worth of remark that the first joint Alert-Scramble was launched on Mar. 2, 2022. The aircraft usually establish a Combat Air Patrol (CAP) to monitor the area of competence and dissuade traffic in the area from any unauthorized entry. VIDs (Visual Identifications) are not always required.
In addition to that, one of the two G550 CAEW aircraft of the 14° Stormo (Wing) of the Aeronautica Militare, flew a surveillance mission inside the Romanian airspace, not far from the eastern border with Moldava and south of the border with Ukraine, on Mar. 8, 2022. This was the very first the first time the Italian surveillance aircraft flew over Eastern Europe following the Russian invasion. On Mar. 7, 2022, an Italian Air Force KC-767A tanker carried out the type's first mission over Eastern Europe in support of fighter jets tasked with NATO's enhanced Air Policing mission.
The Reapers have owned the skies over Europe for decades. From their very first mission… to their very last. Undefeated air dominance is the #GoldStandard of the Liberty Wing!#WeAreNATO #StrongerTogether #owntheskies #WeAreLiberty @NATO @US_EUCOM @HQUSAFEAFAF @usairforce pic.twitter.com/M5bgupWuRd

— RAF Lakenheath (@48FighterWing) February 23, 2022
The U.S. Air Force moved around some of its deployed assets, beginning from the F-15Cs of the 493rd Fighter Squadron. The "Grim Reapers" returned to RAF Lakenheath, England, after completing the enhanced Air Policing mission at Łask Air Base, Poland, on Feb. 28, 2022. The 493rd FS completed this way its last NATO mission with F-15's and has now been relieved by the 336th FS assigned to Seymour Johnson Air Force Base, North Carolina, which was already deployed there.
The F-35s of the 34th FS from Hill Air Force Base, Utah, that were deployed to Estonia's Amari Air Base, Lithuania's Siauliai Air Base, and Romania's Fetesti Air Base have returned to Spangdahlem Air Base. On Feb. 27, we reported that at least one F-35 could be tracked online as it flew a mission over southeastern Poland, marking the first time an F-35's track appeared over Eastern Europe since Russia had invaded Ukraine. On the following day, F-35s flew again over Poland and without carrying the usual RCS (Radar Cross Section) enhancers/radar reflectors normally installed during peacetime operations.
Impressive – Lakenheath's "Valkyries" already deployed on NATO missions despite only being three months into F-35 ops with the @48FighterWing https://t.co/0G8TBqjKpN

— Jamie Hunter – Aviacom (@jamie_aviacom) March 1, 2022
Speaking of F-35s, we recently saw also the first operational deployment of the newly delivered aircraft of the 495th Fighter Squadron "Valkyries". The F-35 only arrived at RAF Lakenheath on Dec. 15, 2021, marking the arrival of the first Europe-based USAF's Lightning II 5th generation aircraft. At least three aircraft have been deployed to air bases in the Baltic area, but it is not clear if they returned to the UK yet.
In addition to the F-35s and F-16Cs, Fetesti Air Base also hosted for some time four U.S. Navy F/A-18s, which it has now been confirmed they returned to the USS Truman last month and are flying patrol missions from there. F/A-18E/F Super Hornets and EA-18G Growlers are constantly flying patrols over Romania, supported by allied tankers and E-2Ds Hawkeye, with the aircraft carrier now moving to the Aegean Sea.
#WeAreNATO 💪@USSHARRYSTRUMAN aircraft have been supporting @NATO's enhanced Air Policing mission on the Alliance's eastern flank in recent weeks. Enhanced Air Policing provides 24/7 safety and security for the Alliance.

Read more! https://t.co/kBtjLM1nuB pic.twitter.com/uIuXJreg7F

— U.S. Naval Forces Europe-Africa/U.S. Sixth Fleet (@USNavyEurope) March 3, 2022
We now have confirmation that the attack aviation task force, made of 20 AH-64E helicopters and an unspecified number of UH60 Blackhawks, being moved from Greece to Poland has been deployed to Powidz. The helicopters belong to the 1st Air Cavalry Brigade, which is in Europe for Atlantic Resolve, initially at Stefanovikeio Air Base, Greece, and relocated in less than 5 days to support the United States' decision to increase its presence and activities in Poland.
The United Kingdom deployed its Apache attack helicopters, together with Chinooks transport helicopters, in Lithuania, where they will also participate to Exercise Sabre Strike. F-35B Lightning aircraft from RAF Marham have also arrived at Amari airbase in Estonia to carry out NATO enhanced Vigilance Activity, in addition to the ones already flying patrol missions over Poland and Romania from their base. Typhoons from RAF Coningsby are flying daily missions over Europe too, supported by Voyager tankers from Brize Norton.
#Europe | Les Rafale de l' @Armee_de_lair en mission de défense aérienne au-dessus du territoire polonais.
Objectif: renforcer la posture de dissuasion et de défense sur le flanc Est #OTAN.#SolidaritéStratégique @NATO @Armees_Gouv pic.twitter.com/cMIRlXBOQW

— Armée française – Opérations militaires (@EtatMajorFR) March 1, 2022
France is also participating in NATO's enhanced Vigilance Activities, providing four of its fighter aircraft and two air-to-air refueling aircraft since Feb. 24. Rafale C fighter aircraft of the French Air and Space Force are flying Combat Air Patrol missions from their home base at Mont-de-Marsan, with A-330 Multi-Role Tanker Transport (MRTT) aircraft supporting them to allow a time on station of three hours two times every day.
The French Navy is now also officially involved in the operations with the CVN Charles de Gaulle, deployed in the Aegean Sea, launching the Rafale M and E-2C Hawkeye flights for the eVA (enhanced Vigilance Activities) mission, complementing the patrol missions of the French Air Force Rafale Cs. Moreover, from March 31 until August 1, 2022, France is deploying four Mirage 2000-5 fighter aircraft to Ämari, Estonia, as part of a scheduled deployment to augment NATO's Baltic Air Policing.
The aircraft are conducting flights over 🇷🇴 and 🇧🇬. Objectives:
➡️Combat Air Patrol (CAP) for the Rafale Marine
➡️Command and Control (C2) and Airbororne Early Warning (AEW) for the E-2C Hawkeye. pic.twitter.com/Nu8k1jyCoE

— Marine nationale (@MarineNationale) March 7, 2022
While not related (at least for now) to the Ukrainian crisis, the U.S. Marine Corps deployed F/A-18s Hornet, assigned to Marine Fighter Attack Squadron (VMFA) 312, to Bodo Air Station, Norway. The aircraft are scheduled to take part to Cold Response '22, a biennial Norwegian national readiness and defense exercise that takes place across Norway, with participation from each of its military services, as well as from 26 additional NATO allied nations and regional partners.