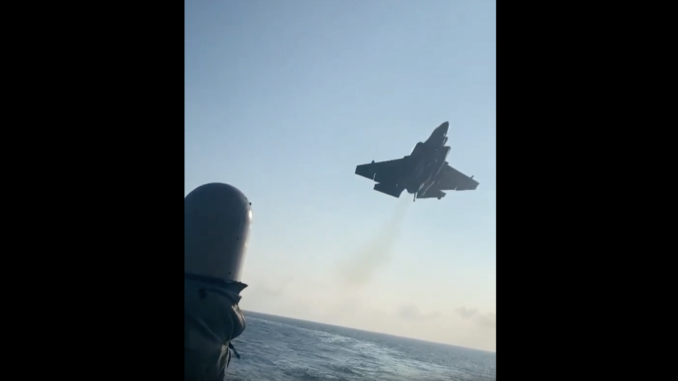 A new video filmed from the aircraft carrier fantail appears to show the F-35C doing short, heavy landing.
Yesterday we posted a photograph, believed to be genuine, showing the F-35C belonging to the "Argonauts" of Strike Fighter Squadron (VFA) 147 and assigned to Carrier Air Wing (CVW) 2 floating in the water after it suffered a landing mishap that forced the pilot to eject and injured 7 sailors.
The image, leaked online was allegedly taken after the Lightning II jet had fallen from USS Carl Vinson, following the landing mishap that occurred on on Jan. 24, 2022.
The aircraft appeared to sport the VFA-147 markings, a missing canopy (the rear part, the one that embeds the explosive cord needed to shatter the canopy before the ejection seat activates, as the windscreen remains in place) and it was probably still floating moments before it started sinking in the South China Sea.
Now, a video has also emerged on Instagram and other social networks supposedly showing the final approach of the F-35C to the carrier. While it can't be verified, the footage appears to be consistent with the details about the incident that have surfaced so far. According to the user who first uploaded it on Instagram, the clip first appeared on a Telegram channel.
The 17-second video shows the F-35C (apparently carrying two AIM-9X Sidewinder missiles on the external pylons) with landing gear and tailhook down approaching the fantail at the end of the base turn in what seems to be perfect weather and visibility. Then, as the aircraft is in short final, you can clearly hear the engine revving up as the pilot applied more thrust to counter the low altitude/high sink rate. The very last second shows the jet hitting the flight deck or ramp (it looks more like a heavy landing than a ramp strike but it's difficult to say) with white smoke becoming visible before recording stops.
We can't but notice how easily images and videos of the most recent Lightning II incidents at sea (as the F-35B failed take off in the Med Sea last November) are being leaked online these days. Anyway, until some official PLAT footage is eventually released by the Navy the clip below is the first and only allegedly showing the F-35C "landing mishap".
View this post on Instagram
H/T to our friend @Julien_Maire for sending this over to us.