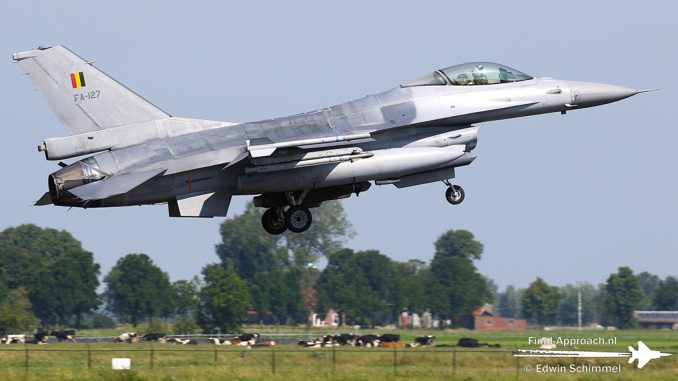 A Belgian Air Force F-16 hit a building shortly after start-up.
On Jul. 1, 2021, a BAF (Belgian Air Force) F-16 was involved in an incident at Leeuwarden Air Base, in the Netherlands. According to the details released by the Royal Netherlands Air Force, the F-16 accelerated on its own on start-up, as the crew chief was still working on the aircraft, jumped the chocks and crashed into a building opposite the flightline.
Both the Belgian pilot and the crew chief were injured and taken to hospital.
Een Belgische F-16-vlieger heeft zichzelf vanmorgen op @VlbLeeuwarden met zijn schietstoel in veiligheid gebracht. De militair landde net buiten Vliegbasis Leeuwarden. Hij en een Belgische crewchief zijn naar het ziekenhuis gebracht. https://t.co/vEe4YlnFlg pic.twitter.com/N81XZIeGNR

— Ministerie van Defensie (@Defensie) July 1, 2021
The incident occurred on the last day of Dutch F-16 operations at Leeuwarden: the base will host the RNLAF F-35 and for this reason the remaining RNLAF Vipers will be moved to Volkel. Many spotters were outside the base and some of them observed the mishap unfold. One of them spoke, who spoke to the Dutch media outlet NOS, said that the aircraft had just been given permission to take off around 09.15 hours. "We were standing at the spotting point near Marsum. Suddenly we heard a lot of noise. And at that moment I saw a tail of an F-16 rolling over the platform at a fairly high speed."
According to Scramble, the mishap Viper is FA130 part of 2 Wing, based at Florennes. The aircraft was at Leeuwarden for the Weapon Instructor Course (WIC) currently underway. The WIC is a 6-months training course for the best and most experienced pilots to become a weapon instructor.
Concerns regarding the airworthiness and overall readiness of the Belgian fighters are regularly voiced, even though the BAF F-16s are frequently called to patrol NATO borders or perform QRA (Quick Reaction Alert) missions in the frame of joint BE-NL cooperation in safeguarding the common airspace.
In March 2021, the Belgian F-16 fleet was grounded following an engine mishap that occurred on Feb. 11, 2021, when an F-16 was forced to land shortly after takeoff from Florennes. The investigation revealed that the plane suffered a nozzle burn, "a phenomenon in which a break in material causes, due to the high temperature, a number of parts to melt which can come off," according to Belgium's Defense Aviation Safety Directorate. Flight operations were resumed on Mar. 19, 2021.
In September 2019 a Belgian two seater F-16B crashed in western France: both crew members managed to eject from the aircraft. Earlier, in 2018, a Belgian Air Force F-16 w destroasyed and another aircraft damaged when the M61A1 Vulcan 20mm cannon on board a third F-16 was accidentally fired on the ground by maintenance personnel at Florennes.
H/T to Jean-Paul Van De Walle, @Gerjon_ and Edwin Schimmel for providing additional details for this story.