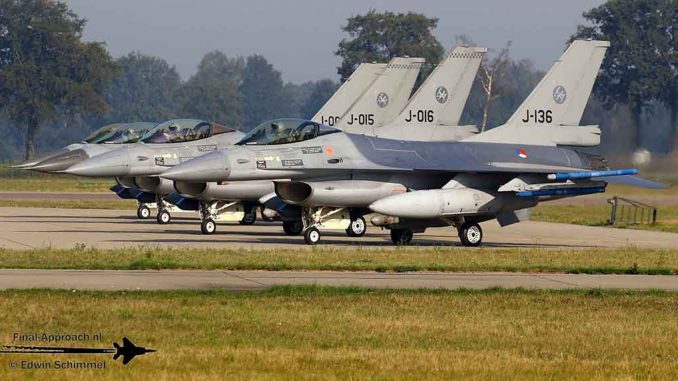 Draken International is about to expand its fleet of fighter jets already used for Combat Air Force/Contracted Air Support (CAF/CAS) program in the U.S with ex-RNlAF F-16s.
The Dutch Parliament was informed on June the 29th 2021 that an interdepartmental Defense Materiel Sales Committee, consisting of representatives of the Dutch Ministry of Foreign Affairs, the Ministry of Finance and the Ministry of Defence, has approved the sale of 12 F-16s to Draken International.
The American company is contracted by the American government to fly aggressor missions during exercises with the U.S. Air Force and Navy. The Dutch F-16s, including support equipment, retired by the Royal Netherlands Air Force, will join Draken's already impressive mixed fleet MB-339s, MiG-21s, A-4K/Ns, L-39s, Mirage F-1Ms (one of those crashed at Nellis Air Force Base in May this year causing the death of its pilot) and Denel (formerly Atlas) Cheetahs (a South African major upgrade of the Mirage III with technology from the Israeli IAI Kfir, which is in turn derived from the Mirage 5).
The Falcons will come out of the F-16 End Life of Type (ELOT) program after the Dutch retire their F-16s starting in 2022. There is also an option to sell an additional 28 F-16s to Draken: these will be retired in batches from now till 2024. A formal contract for the sale will be signed in 2021 and the first deliveries could happen in 2022.
At this time of writing it is unknown if the deal with Draken International only includes single-seat F-16As or also dual-seaters F-16Bs. It will also be interesting to see how these F-16s will be modified and the type of paint scheme they will be given: we have already seen some really cool liveries among contract aggressors lately.
The role of aggressors/adversary units is to train fighter pilots in the most realistic way in extremely important. While some services, have their own units that replicate paint schemes, markings, insignas and, above all, the tactics, used in combat by their near peer adversaries, these are usually costly to operate and maintain: experienced aircrews, constant training and the proper assets are not cheap.  For this reason, both in the U.S. and abroad, even those air forces who have the assets, budget and experience to insource adversary support services increasingly rely on contracted aggressor services provided by private companies.
They call it CAS: contract air services. Companies like Draken International (as well as ATAC, TacAir and Top Aces) have been working with the U.S. military since more than a decade, committing their jets to replicate high-end real-world threats. And this is going to continue in the future.
As already explained in an article about the ex-Israeli Air Force F-16s purchased by the Canadian Top Aces company, the original Combat Air Force Contracted Air Support (CAF CAS) multi-award contract, was announced to cover 40,000 flight hours of adversary training at 12 different air bases and 10,000 flight hours is support of Joint Terminal Attack Controllers (JTAC) training at nine Army bases. After some reductions, the current program's first phase features a little less than 9,000 flight sorties at six bases for the first year and an optional three year-extension for a total of over 26,000 flight sorties.
The six bases involved are Kingsley Field ANGB (TacAir), Luke AFB (ATAC), Holloman AFB (ATAC), Eglin AFB (ATAC), Seymour Johnson AFB (Draken International) and Kelly Field (Draken International), home of FTUs for F-15s, F-16s, F-22s and F-35s.
A big thank you to Edwin Schimmel for providing many details for this story!