The SouthEast Asia camouflage of the A-10C, inspired by the F-105 Thunderchiefs of the 355th Tactical Fighter Wing, will honor the unit's Prisoners of War, Missing in Action and Veterans.
The U.S. Air Force A-10C Thunderbolt II demonstration team is being assigned a new jet ahead of the 2021 airshow season. The aircraft, serial 81-0962, was recently repainted by the 355th Equipment Maintenance Squadron at Davis-Monthan Air Force Base, Arizona, in the Vietnam-era SouthEast Asia (SEA) camouflage. The A-10 is not new to camouflages, as it was painted with the green and gray European One camouflage during the Cold War.
The Team said that the new paint scheme was inspired by the F-105 Thunderchiefs that the 355th Tactical Fighter Wing (former designation of the current 355th Fighter Wing based at Davis-Monthan) flew during the Vietnam War. To honor the Prisoners of War, Missing in Action and Veterans, the starboard side of the A-10's nose features the names of all the unit's members who lost their lives or were captured during the conflict, accompanied by the National League of Families POW/MIA flag.
The upper surfaces of the A-10C have thus been painted with medium green, dark green and dark tan patches, while the lower surfaces have been painted with camouflage gray, in line with the same colors used by the US Air Force aircraft during the Vietnam conflict. On the fuselage the aircraft also shows the insignias of the 354th and 357th Tactical Fighter Squadrons, which have been redesignated 354th and 357th Fighter Squadrons in 1991.
The aircraft was unveiled at the presence of many Veterans and their families, which had the privilege of witnessing its first flight with the new colors and then get to see the aircraft up-close after it landed. The aircraft was reportedly flown by Capt Haden "Gator" Fullam which, according to the Air Combat Command 2021 Demo Team and Heritage Flight Support Manual, will be the Team's new Commander and demo pilot. The official announcement is due to arrive soon, as the demo teams are scheduled to fly together during the Heritage Flight Training Course from March 3 through 8 at Davis-Monthan AFB.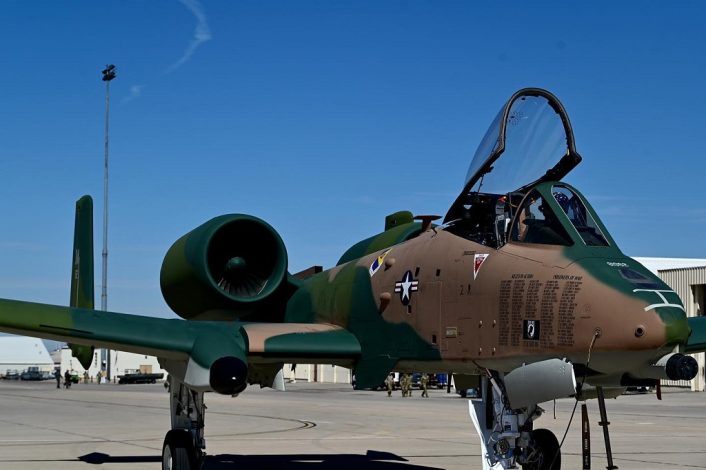 The new specially painted "Warthog" follows the one that was unveiled in 2019 and flew during the 2020 airshow season, which featured green paint overlapping the standard low-visibility gray scheme on the jet's upper surfaces, invasion stripes on the lower surfaces of the engines and the wings and the insignias used by the U.S. Army Air Forces until 1947. The special scheme was said to be inspired by P-51 Mustangs which used the same scheme during World War II, even if the P-47 Thunderbolt had a much similar livery.