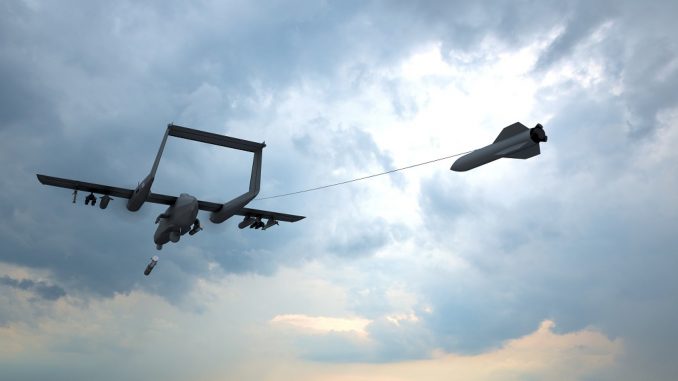 A Magnetic Anomaly Detection Sensor Will Complement The Already Announced Sonobuoys To Detect Submarines.
Icarus Aerospace announced last week the partnership with CAE Defence & Security to provide their Wasp-M, the fully militarized version of their OV-10 Bronco-revamp called TAV (Tactical Air Vehicle), with the company's digital Magnetic Anomaly Detection-Extended Role (MAD-XR) system, designed with reduced size, weight, and power requirements to allow smaller platforms such as unmanned aerial systems (UASs), helicopters and smaller fixed-wing aircraft to carry a MAD sensor for Anti-Submarine Warfare (ASW) missions.
A MAD sensor is based around a highly sensitive magnetometer, used to sense minute changes in the Earth's magnetic field due to metallic objects in the vicinity. A submerged submarine represents a mass of ferromagnetic material that creates a detectable disturbance in the Earth's magnetic field. The data gathered are then analyzed to determine the separation from the detected object. The target however has to be in close proximity to the aircraft, usually no more than 1,000/1,200 meters.
The sensor, which will be provided in a towed configuration to remove all sources of aircraft interference, will allow the Wasp-M to detect submarines and perform Maritime & Coastal Patrol and Anti-Submarine Warfare (ASW) as advertised when the aircraft was first unveiled, something that was unexpected to say the least.
As we also wrote in a previous article, Icarus is envisioning the Wasp-M as an "ideal P-8 gap filler and P-3 replacement" and capable of employing its EO/IR turrets (Electro-Optical/InfraRed), up to two torpedoes, anti-ship missiles and sonobuoys for this role. An optional 360-degree Leonardo Osprey AESA radar is also offered to augment the surface search capabilities.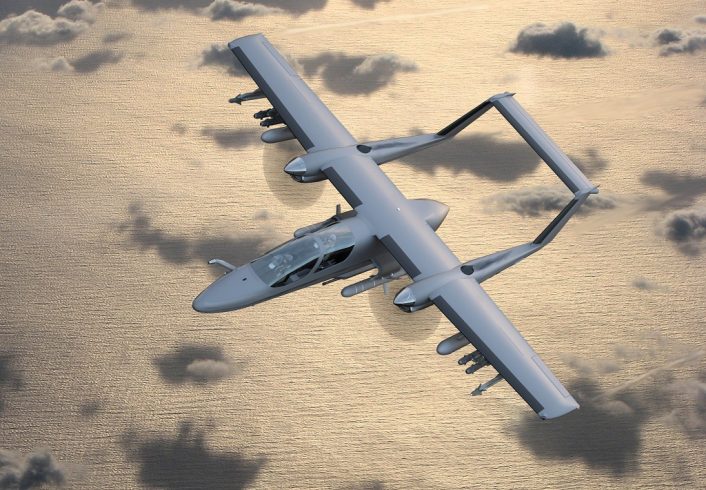 With the addition of the MAD, usually found an all ASW aircraft, Icarus shows that they are concretely looking to adapt this small aircraft to efficiently perform such a specialized mission. In one of the new renderings, the MAD is shown deployed from the rear of one of the booms while a torpedo is being released.
None of the two were shown previously, as the Wasp was only shown with anti-ship missiles for this role. The only system that has not yet been shown is the sonobuoy deployment system, which could be either contained in one of the booms like the MAD or even a separate pod like the one show for the specialized MQ-9B SeaGuardian Remotely Piloted Aircraft being deployed by General Atomics.
"To further localize or identify submarines, MALE UAVs like the MQ-9B SeaGuardian would deploy sonobuoys, scan the ocean with mast detection radars and employ passive SIGINT capabilities…" https://t.co/QMtaV6hVzk#RPA #UAS #MaritimeSolution #MQ9B pic.twitter.com/NARzLuPa88

— GA-ASI (@GenAtomics_ASI) September 22, 2020
As we wrote last month for when TAV was first unveiled, it is not clear how the company plans to condense the workload of the multi-person crew of bigger ASW specialized aircraft like the P-8 Poseidon which rely on the presence of an operator for each sensor.
Other companies like Diamond Aircraft, with its DA-42 and DA-62 MPP variants (Multi-Purpose Platform), perform maritime patrol missions with similar sized aircraft with crews of one or two pilots in the front and one or two operators in the back, managing at least one EO/IR turret and a radar and reportedly assisted by automated algorithms.
Considering that also CAE's datasheet for MAD-XR mentions the use of automated algorithms for data processing and target localization and detection, it is safe to assume that Icarus aims to automate the data gathering and processing to reduce the workload of the system operator and allow him to manage efficiently all sensors alone, maybe even integrating Artificial Intelligence in the avionics.
Speaking of AI, the unmanned variant of TAV, called Branta, has been advertised also as a fully autonomous or "Loyal Wingman" aircraft and even as aerial refueling aircraft with an hose-and-drogue system.
Optionally piloted #OPV coupled with high performance aircraft. Manned, Remotely Piloted, Fully autonomous or #LoyalWingman). And with #BRANTA's performance, payload, systems, Comms and Data Linking we bring amazing capability and efficiency into the mid-to-high altitude arena! pic.twitter.com/6eYG5eS6De

— Icarus Aerospace (@IcarusAerospace) September 9, 2020
World of possibilities at your disposal! We provide you with flexibility and options which will make you rethink how you conduct your operations! Lean, efficient and cost-effective!#closeairsupport #maritimepatrol #antisubmarinewarfare #ussocom #cansof #coastguard #antipiracy pic.twitter.com/jXB44Meq0E

— Icarus Aerospace (@IcarusAerospace) August 24, 2020