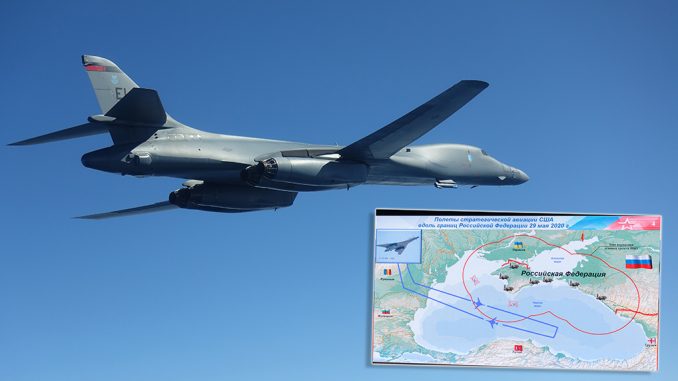 The announcement came a few days after the mission where the Bones flew with assets from Poland, Romania and Ukraine.
As we already reported last week, two U.S. Air Force B-1B Lancers from the 28th Bomb Wing, based at Ellsworth Air Force Base, performed a Bomber Task Force Europe mission over Eastern Europe, flying along the way with Polish F-16s and MiG-29s, Romanian F-16s and MiG-21s, Ukrainian Su-27s and MiG-29s and were also intercepted by Russian Su-27s over the Black Sea.
A few days later, on June 1, 2020, the United States Air Force in Europe (USAFE) command released an official statement about the flight, saying that the B-1B mission's focus was on the training on the Long Range Anti-Ship Missile capability and added that aircrews were able to train to unspecified new emerging threats.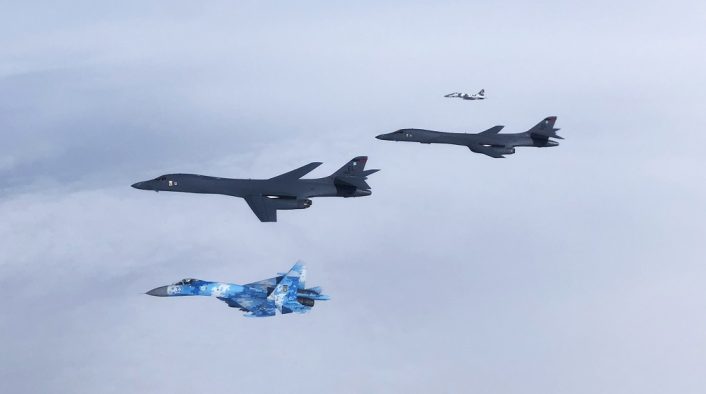 "The rise of near-peer competitors and increased tensions between NATO and our adversaries has brought anti-ship capability back to the forefront of the anti-surface warfare mission for bomber crews," said Lt. Col. Timothy Albrecht, Bomber Task Force planner.
The AGM-158C LRASM, based on the AGM-158B Joint Air-to-Surface Standoff Missile – Extended Range (JASSM-ER), is the new low-observable anti-ship cruise missile developed by DARPA (Defense Advanced Research Projects Agency) for the U.S. Air Force and U.S. Navy. It has already been integrated on the B-1B Lancer and F/A-18E/F Super Hornet, with integration aboard the P-8 Poseidon and MK41 Vertical Launch Systems currently in the works. The B-1B can carry up to 24 AGM-158C missiles.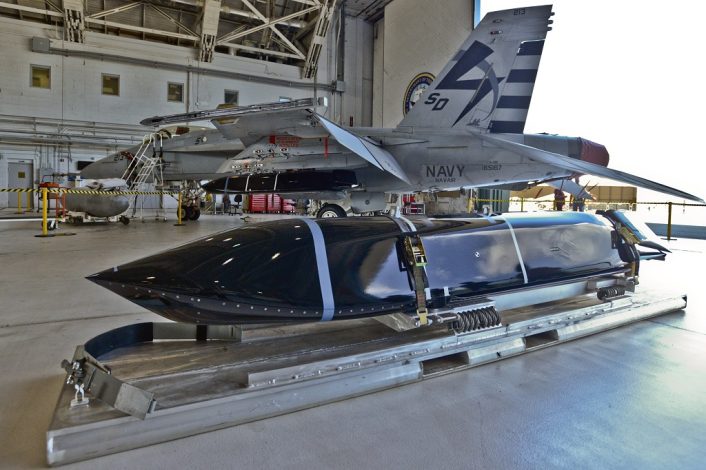 The missile, armed with a 1000 lb (454 kg) penetrator and blast fragmentation warhead, is capable of performing all-weather precision routing and guidance through pre-planned waypoints, before transitioning to mid-course guidance through its multimodal sensor and later to low altitude navigation for target identification and final approach. The LRASM is also equipped with Electronic Support Measure (ESM), Radar Warning Receiver (RWR) and Artificial Intelligence (AI) for threat avoidance and target recognition.
Lt. Col. Albrecht went on saying: "LRASM plays a critical role in ensuring U.S. naval access to operate in both open-ocean and littoral environments due to its enhanced ability to discriminate between targets from long range. With the increase of maritime threats and their improvement of anti-access/area denial environmental weapons, this stealthy anti-ship cruise missile provides reduced risk to strike assets by penetrating and defeating sophisticated enemy air-defense systems."
On the very same day, the Russian MOD released the following statement about the mission:
"The activity of the US Air Force and Navy and their allies near the borders of the Russian Federation sharply increased. In April, the B-1B strategic bombers flew along Kamchatka, and in May five such flights were recorded. On May 29 the B-1B first appeared over Ukraine. In all cases, our air defense systems detected the B-1B in a timely manner, established continuous monitoring and prevented incidents. 7 launches of fighters on air defense duty were completed. Anti-aircraft missile systems were in readiness for immediate use."
#Брифинг #Рудской: Во всех случаях наши средства ПВО своевременно обнаруживали #B1B, устанавливали непрерывный контроль и предотвращали инциденты. Было выполнено 7 подъемов дежурных истребителей по ПВО. В готовности к немедленному применению находились зенитные ракетные средства pic.twitter.com/2wbrqF2tp2

— Минобороны России (@mod_russia) June 1, 2020
At the beginning of May, two B-1Bs performed a similar mission over the South China Sea from Andersen Air Force Base on the island of Guam, that time armed with live JASSM missiles, as it could be seen in photos released by the Pacific Air Forces (PACAF) command. Many analysts considered the mission as a "show of force" following the rising tensions in the area.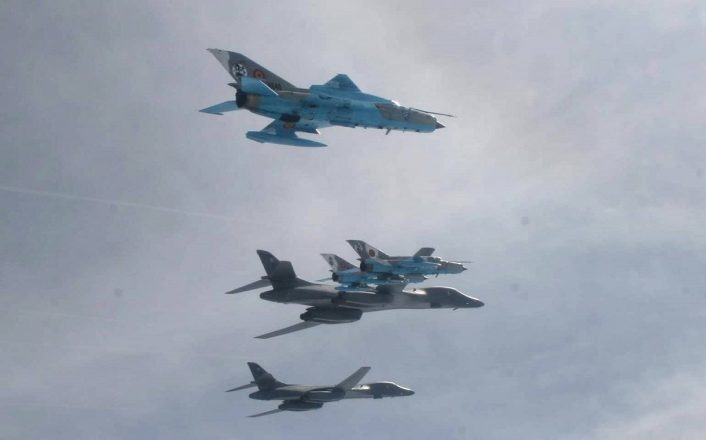 About two weeks later, two Lancers took off again from Guam to perform a training mission over Alaska and, while enroute to Japan during the return leg, at least one bomber was tracked entering the Sea of ​​Okhotsk, which is surrounded by Russian territory. While this "detour" was not mentioned in the official press release by PACAF, it mentioned that the Bones performed multiple standoff weapons training events including LRASM training during the mission.
Unlike the flight over the South China Sea, we don't have any official confirmation that the bombers were armed with live missiles during the missions over the Sea of ​​Okhotsk and the Black Sea, however we can't rule out this possibility, as the Department of Defense and the U.S. Air Force are using the new bomber deployment concept not only to enhance aircrew training and to be "strategically predictable and operationally unpredictable", but also as a deterrent against potential adversaries, a message that, even if not explicitly stated, is clearly directed to China and Russia.
Quoting the latest flight's official statement: "According to Albrecht, this training adds deterrent value not only to the U.S. but to our allies and partners. He says that in the future adversaries will not only have to worry about missile threats from surface ships, but land-based bombers as well. These capabilities should weigh heavily on any potential adversaries' mind and they should account for them in their decision calculus. Bombers equipped with LRASM should give adversaries pause and deter aggressive actions by would-be adversaries who seek to do harm to the U.S. and its allies and partners."