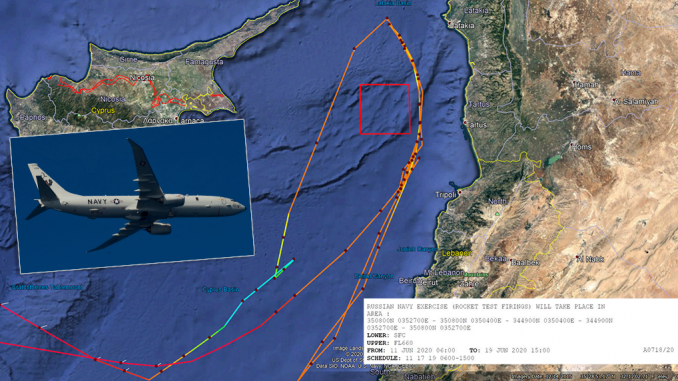 "PS191" watched Russian Navy vessel firing rockets off Tartus.
An interesting event took place on Jun. 19, 2020, near Syria.
On that day, Cyprus had a NOTAM (Notice To AirMen) up for Russian Navy missile firing exercise off the coast of Tartus, in Syria.
According to the published schedule, firing would take place on multiple days, including Jun. 19, until 1500Z (GMT).

Around 1200Z, a P-8A launched from NAS Sigonella, Sicily, under radio callsign "PS191" (registration unknown) entered the area from the west. Aircraft was on tactical hex AE6840:
🇺🇸 ✈ #USN United States Navy, Boeing P8A Poseidon AE6840 | #ISR mission off the Syrian-Lebanese coasts pic.twitter.com/86Yacytwo3

— INTELSky (@Intel_Sky) June 19, 2020
The  U.S. Navy P-8A Maritime Patrol and Reconnaissance Aircraft was in contact with Nicosia ATC. At some point in time, primary targets were observed by Nicosia within the danger area. Most likely, rockets fired from navy vessels. Russia has a heavy presence in naval base Tartus and also recently "bolstered the base's capability".
Several military drills take place in the waters off Tartus, as reported by TASS News Agency recently.
Moreover, during the time the P-8 was "on station", the Israeli activated danger area LCD46, most probably to have a look themselves at the Russian firing activity.
Full recording can be listened here:
Track data has them on the east side of the danger area, flying up and down the coast. From that position, they were front row witnesses of what the Russian Navy was firing. Around 1500Z they left the area to the southwest.
Dealing with the P-8A, these aircraft regularly fly ISR (Intelligence Surveillance Reconnaissance) missions across the Med. As explained in a previous post: "These assets are much more than MPA (Maritime Patrol Aircraft): they are multi-mission platforms that can gather valuable intelligence using a wide array of sensors. Among these, an Advanced Airborne Sensor (a dual-sided AESA radar that can offer 360-degree scanning on targets on land or coastal areas, and which has potential applications as a jamming or even cyberwarfare platform according to Northrop Grumman); an APY-10 multi-mode synthetic aperture radar; an MX-20 electro-optical/infrared turret for shorter-range search; and an ALQ-240 Electronic Support Measure (ESM) suite, able to geo-locate and track enemy radar emitters. Moreover, all sensors contribute to a single fused tactical situation display, which is then shared over both military standard and internet protocol data links, allowing for seamless delivery of information amongst U.S. and coalition forces."
With that in mind, the U.S. Navy P-8s operating out of Sigonalla can be regularly tracked online by means of their ADS-B/Mode-S transponders orbiting off Syria (where a tense close encounter with two Su-35s took place), flying over the Black Sea near Crimea or hunting Russian Navy subs and warships in the western Mediterranean Sea around Gibraltair. They have also been spotted off Libya recently. OSINT analysis on their routes always provides interesting insights into their missions.
A big "Thank you" to our friend Arjen Peters for providing all the details about the interesting mission. Make sure you follow him on Twitter here.