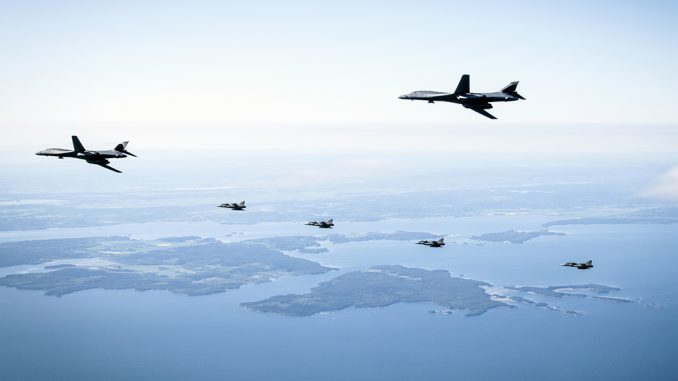 Ellsworth AFB's B-1s flew yet another round-trip mission from CONUS to Europe.
The BONEs (as the B-1 Lancers are commonly dubbed) have become the most visible heavy bombers in the U.S. Air Force inventory lately. The supersonic bombers have been involved in multiple long-range missions around the world, widely advertised global reach sorties that have seen the B-1s fly from their homebases in Continental US to both the Pacific region and northern Europe. In May alone, the 28th Bomb Wing at Ellsworth Air Force Base, South Dakota, has carried out BTF (Bomber Task Force) Europe missions over the Baltic, Poland and the Nordic region.
The latter, in particular, carried out on May 20, conducted in accordance with the standard format for this king of strategic BTF mission, saw two two B-1B Lancers from the 28th Bomb Wing, Ellsworth Air Force Base, South Dakota, fly over the Sweden for the first time: the BONEs were intercepted and escorted by Swedish Gripens and conducted a CAS (Close Air Support) training with Swedish Joint Terminal Attack Controller ground teams at Vidsel Range.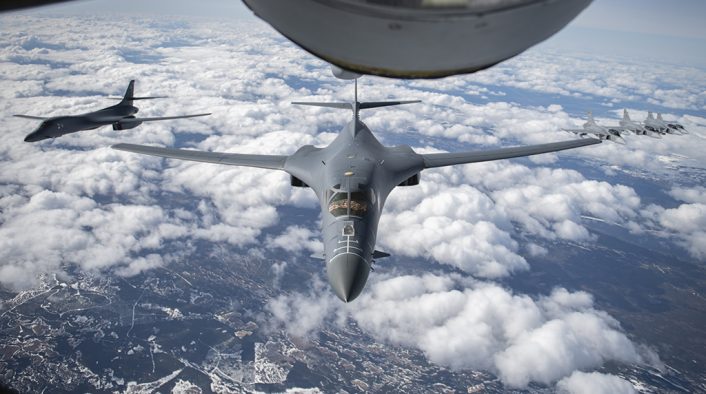 During the flight, the B-1s were escorted by RAF Typhoons over the United Kingdom and "integrated" (a term that more or less means just that they were intercepted and flew together for some time) with Norwegian F-35As out of Ørland Air Station, Norway, where the B-1s performed also a low approach.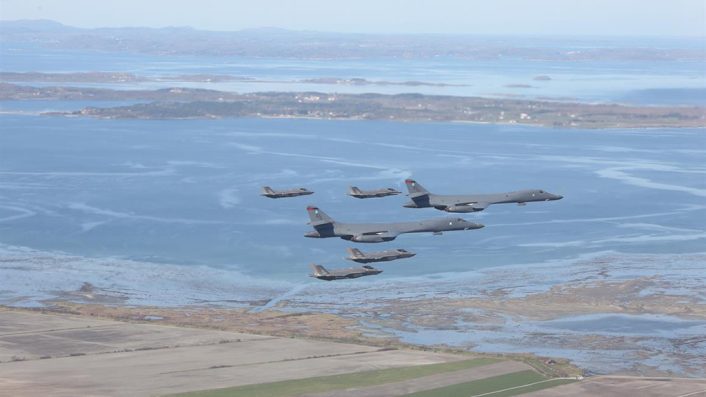 A KC-135 Stratotanker from the 100th Air Refueling Wing, RAF Mildenhall, England, and the Dutch KDC-10 from the 334th Squadron, RNLAF Eindhoven Air Base, Netherlands, supported the B-1s as well as the accompanying aircraft.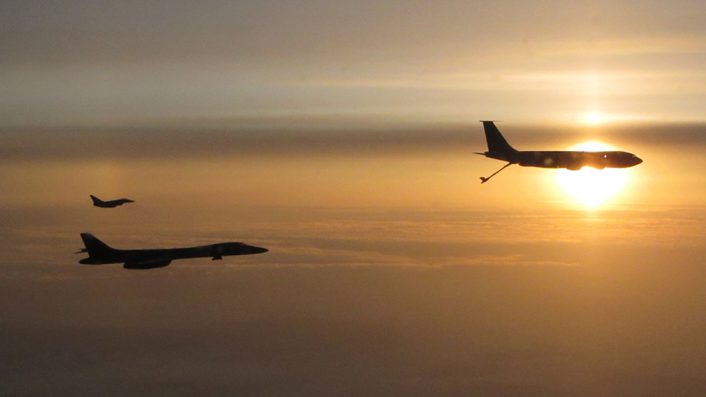 "Long-range bomber training missions strengthen our steadfast partnerships with allies across both Europe and Africa and showcase our ability to respond globally from anywhere," said U.S. Air Forces in Europe and Air Forces Africa commander, Gen. Jeff Harrigian, in an U.S. Air Forces in Europe and Air Forces Africa release. "This mission further enhances our interoperability capabilities by taking groundbreaking steps to incorporate our partners to generate seamless operations."
For sure, along with the opportunity to train B-1s aircrews to carry out +30-hour sorties such missions also provide an opportunity to take some nice "group shots" like those included in this article.