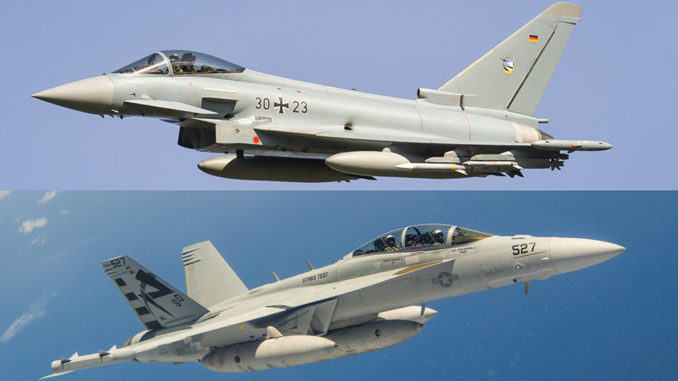 The choice is dictated by the need to have a nuclear-capable aircraft to replace this Tornado's capability in short time.
As the service life of the Tornado fleet is nearing its end, the German Air Force is facing a continuous increase in the maintenance costs and availability issues. The government is evaluating a replacement and, after excluding the F-35 Lightning II last year, it looks like the plan (not yet approved) is to replace the Tornado with a mixed fleet of Eurofighter Typhoons and Boeing F/A-18 Super Hornets beginning from 2025.
Until some time ago, the German Air Force was aiming to replace the Tornado fleet only with the Eurofighter in both the ECR and the Project Quadriga configuration. For reference, Project Quadriga is a program to replace the older Tranche 1 Eurofighters with new aircraft with the latest upgrades and the new Captor E-Scan Mk1 AESA radar; additional aircraft in this configuration were proposed as Tornado replacement. The ECR (Electronic Combat Reconnaissance) variant would have replaced the Electronic Warfare (EW) and Suppression of Enemy Air Defences (SEAD) capabilities of the Tornado ECR, while the remaining Quadriga aircraft would have replaced the Tornado IDS capabilities.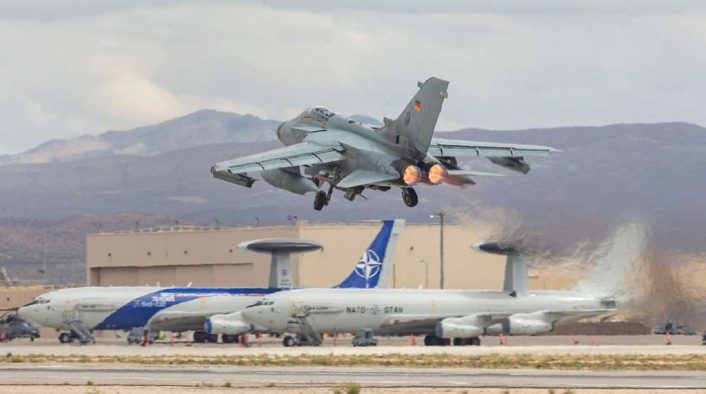 However, before selecting what will replace the Tornado, Germany needs to satisfy an important requirement: the new aircraft has to be nuclear capable as the country is part of NATO's nuclear sharing agreement. Because of this, as reported by the German business newspaper Handelsblatt, the Ministry of Defense has plans to purchase of up to 90 Eurofighters and 45 F/A-18s. Neither the Eurofighter nor the Super Hornet are nuclear capable, but the MoD seems to have assessed with United States that the integration of the B-61 nuclear bomb will be faster on the American-made aircraft, while it would take from three to five years longer on the Eurofighter.
The 45 F/A-18s could include a mix of approximately 30 F/A-18E/F Super Hornets and 15 E/A-18G Growlers, blocking this way a purchase of the new Eurofighter ECR variant. According to Handelsblatt, that decision could have been motivated by some experts that do not trust Airbus to complete the development of the Eurofighter ECR in a short time.
The choice of the F/A-18 sparked some controversies in Germany as industry and government officials argued that four billion euros would be withdrawn from German industry and its suppliers, damaging the industry and causing also higher costs for the taxpayers, since the Air Force would need to build new infrastructure for a relatively small number of aircraft.