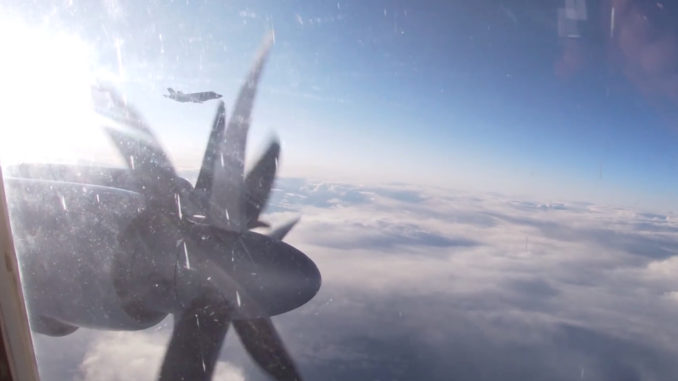 Pretty interesting footage from inside a Russian Naval Aviation Tu-142 intercepted yesterday.
The Russian MoD has just released an interesting video that provides additional details about the long-range mission flown in international airspace by a Tu-142MK ASW (Anti-Submarine Warfare) and maritime patrol aircraft and a Tu-142MR Bear-J VLF band radio communications relay platform escorted by at least one MiG-31 Foxhound (armed with R-33 missiles) that caused the Royal Norwegian Air Force and the RAF to scramble their interceptors on Mar. 7, 2020.
Filmed from inside one of the Tu-142s, the video shows the RAF Typhoons, the RNoAF F-16s from Bodø as well as the Norwegian F-35A launched from Orland Air Station for their first intercept of Russian aircraft. The clip, that shows also one of the Tu-142s as it is refueled by an Il-78 Midas tanker, is also interesting because lets the viewer see the Bear's coaxial contra-rotating propellers at work.
As already reported, the Tu-142MK is designed to perform ASW: its goal is to search and destroy submarines in distant patrol areas. The aircraft can carry out long-range maritime reconnaissance, aiming, and search-and-rescue operations too. Based on the Tu-95RT, a maritime reconnaissance variant of the baseline strategic bomber produced for naval operations, it has a maximum speed of 855 km/h, cruising speed of 720 km/h and a range of 12,550 km.
The Tu-142MR "Bear J" is a VLF band radio communications relay platform whose mission is similar in concept to the one of US E-6A TACAMO: it provides a communications relay capability to submerged SSBNs, SSGNs and SSNs. The Bear J is based on the Bear F airframe but has a ventral fairing containing the VLF antenna cable reel and unique nose radome and antenna on the vertical tail.