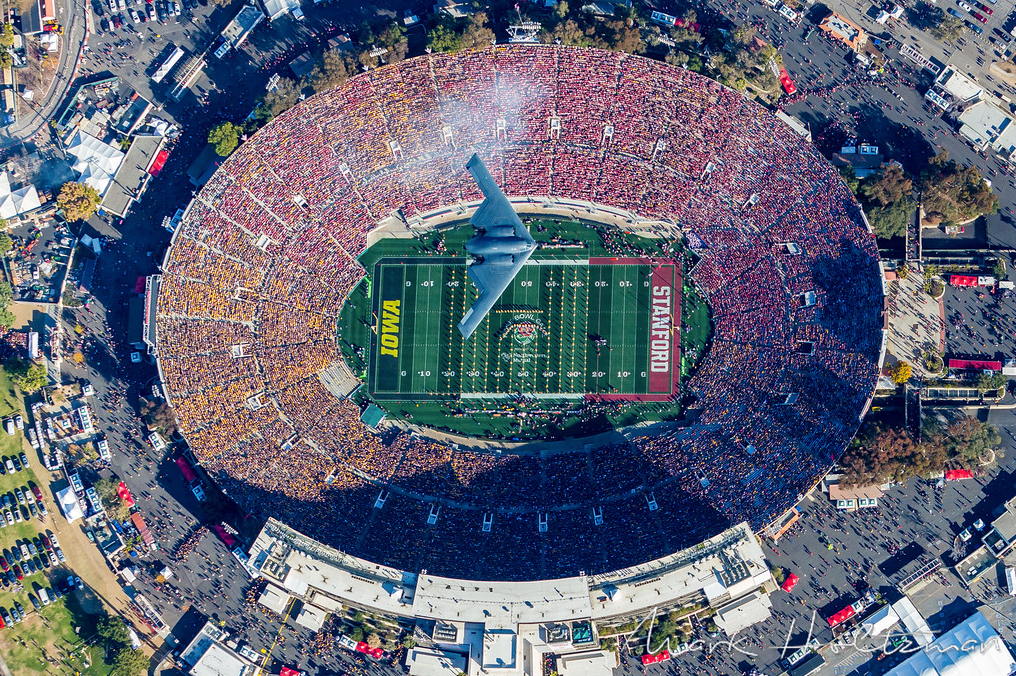 The B-2 Rose Bowl flyover as seen from  above.
As already reported, on Jan. 1, 2016, a B-2 Spirit belonging to the 509th Bomb Wing from Whiteman Air Force Base, Missouri, opened the 102nd Rose Bowl Game between the Big Ten Conference West Division champion Iowa Hawkeyes and the Pac-12 Conference champion Stanford Cardinal, at the Rose Bowl stadium in Pasadena, California with a flyover.
The jaw-dropping air-to-air image showing the Stealth Bomber during the flyover (from above) was taken by Mark Holtzman, a California native with over 25 years of experience as both a photographer and pilot, founder of West Coast Aerial Photography, a company specialising in aerial photography based in Los Angeles.
[By the way, you can buy a print of the photo here].
Take time to visit Mark's blog at www.photopilot.com/blog or his galleries at www.markholtzman.com you'll find other cool images as this photo of the 2011 Rose Bowl flyover performed by U.S. Navy F/A-18s out of Lemoore or this one of 2009 Rose Bowl flyover by another B-2.
Image credit: Mark Holtzman
H/T Isaac Alexander for the heads-up!
Follow us everywhere and don't miss any news and update. Get The Aviationist Mobile App for Android here (IOS coming soon).
Related articles