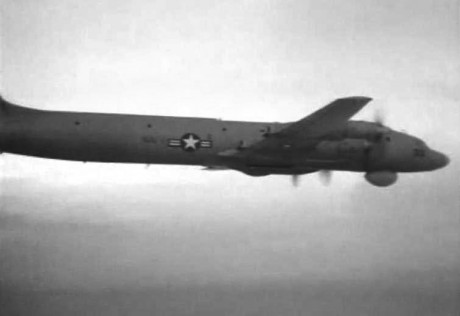 The following images were brought to my attention by writer Miguel Vargas-Caba.
Author of "Bear: Flight to Liberty", during research for his novels, Miguel has acquired an extensive collection of Soviet and Russian articles, videos, documentaries, books, hundreds of photos, etc., illustrating the Soviet Armed Forces during the Cold War, as well as the Russian Armed Forces of today.
Among the material he has collected, there are the following images (probably stills taken from a video) depicting a real Il-38 of the Soviet Naval Aviation painted with US insignias for a Soviet movie called "Incident at Square 36-80" made in 1982 by Mosfilm.
"The movie was about "an American nuclear sub" that got in troubles and threatens to blow up and contaminate the ocean. Before the sub sank, the Soviet Navy comes to the rescue of the unfortunate, stranded American sailors, and saves the day.
A nice, if somewhat prophetic movie, although on the wrong side. In October 1986 Soviet submarine K-219 (seen in the movie "The Widow Maker" with Harrison Ford) had an accident onboard, when one of its torpedos blew up, causing it to sink. One happened in fiction, the other, for real.
Related articles