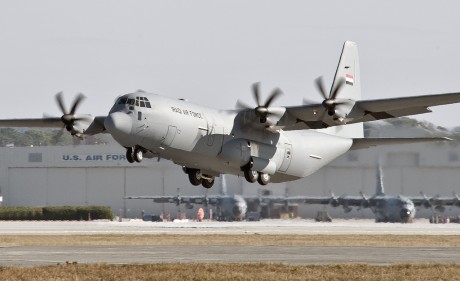 On Dec. 12, an acceptance ceremony held at Lockheed Martin's Marietta, Georgia, facility, celebrated the delivery of the first three C-130J for the Iraqi Air Force.
Six planes, purchased through Foreign Military Sales (FMS) program, will be delivered to Iraq, whose Air Force will use them for intra-theater support and humanitarian relief operations.
The first three aircraft are expected to arrive in Iraq next week. They will depart from Quonset Air National Guard Base, in North Kingstown, where Rhode Island Air National Guard 143rd Airlift Wing (USAF's first and longest serving C-130J Unit) has trained the first Iraqi pilots and maintenance crews in anticipation of the delivery.
The first three cargos where monitored as they flew to Quonset ANGB flying with a standard U.S. Air Force Air Mobility Command "Reach" callsign.
The following audio lets you hear Reach 325, C-130J carrying registration YI-304 calling Andrews Global (Air Force HF Global Communication System) for radio checks.
listen to 'Reach325 C-130j Iraqi Air Force' on Audioboo
Related articles